Scottish prisons are 'not for punishment'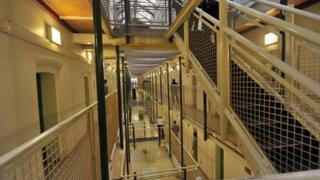 Scotland's prisons should be used "as a punishment" and "not for punishment", according to the head of the service.
Scottish Prison Service chief executive Colin McConnell said prisons needed to do more to help offenders change their behaviour.
In a speech, Mr McConnell called for a major overhaul of the way prisoners are treated in order to reduce reoffending rates.
Justice Secretary Kenny MacAskill has backed the new approach.
Mr McConnell made the comments as he presented new proposals to the SPS conference in Glasgow on Tuesday.
The proposals were based on the findings of a major internal review of prison services, and will see a shift towards "preventative spending" and better integration of public services geared towards prisoners.
Mr McConnell called for more tailored services for prisoners and committed the service to "relating to those in prison as individuals".
He said not enough was being done to tackle reoffending, and that keeping offenders in prison should no longer be the "sole raison d'etre" of the service.
Scotland has one of the highest rates of imprisonment and reoffending in Western Europe.
Of the 47,000 people convicted of a crime in 2009/10, 30% were reconvicted within a year and more than 20% had 10 or more previous convictions.
'Malicious cycle'
Mr McConnell told delegates: "For many who pass through the justice system, we are ineffective and fall short on what we are trying to achieve.
"We in the prison service accept that post-conviction rates and post-custody work that we are part of is simply not good enough.
"We are clearly not having the turnaround impact that we would like, and nor is the performance of the sector as a whole matching the high expectations of our government and the public whom we serve."
Mr MacAskill said Mr McConnell had shown "courage" in creating a new approach to prison services.
He added: "Working with prisoners to help them change their own lives is fundamental to breaking the malicious cycle that sees the same individuals returning through a revolving door into custody.
"I believe this new structure for SPS will build on existing strengths and deliver on this vision.
"I welcome the courage that Colin McConnell and his team have shown in this review. It is challenging, but if any organisation is capable of responding to this challenge, then I am confident that the SPS is."