Irvine Welsh revives 'Begbie' to support homeless people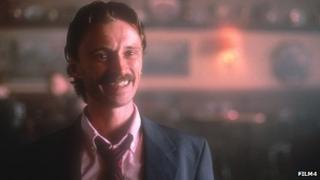 Author Irvine Welsh has revived his infamous Trainspotting character Francis Begbie in an effort to help homeless people around the world.
Welsh has written an exclusive short story for the International Network of Street Papers which features Begbie visiting his family at Christmas.
The new tale, called He Ain't Lager, is set during a time after Welsh's novel Trainspotting and its sequel, Porno.
Trainspotting was first published in 1993 and became a cult classic.
The International Network of Street Papers (INSP) is a Glasgow-based charity which supports The Big Issue and 121 other street papers in 40 countries.
Welsh is an ambassador for INSP.
Christmas tale
Francis Begbie was portrayed by actor Robert Carlyle in Danny Boyle's film adaptation of Trainspotting in 1996.
Begbie became infamous for his extreme violence in Welsh's novels but in the new short story his psychotic character has been rehabilitated through art and falling in love.
The plot centres on Begbie visiting his family at Christmas after being released from prison, while his brother Joe is homeless.
Welsh, who now lives in Chicago, in the US, said there were more revelations about Begbie in his new story and urged people to buy The Big Issue.
He said: "I'm not sure where this (story) came from. I never really know. I just think the character has to be full of surprises and I quite like this little twist in his life.
"Homelessness issues are now sadly ubiquitous across the western world, and very much a product of the weak priorities our political leadership has set."
'Contrarian outsider'
Paul McNamee, editor of The Big Issue, said: "The Christmas period is a key time for The Big Issue and our vendors.
"As we push for sales to help vendors at the most difficult time of the year, we run a series of bumper seasonal editions.
"We start next week, in fact, with a Doctor Who special.
"And we're delighted that Irvine Welsh, who has long been a big supporter of The Big Issue and street papers in general, has come up with a new piece of work for us.
"On the back of the success of Filth, interest in the great contrarian outsider of modern Scottish literature is heightened and we hope that people will be queuing at their local Big Issue vendor to read what he has created when we run it in a couple of weeks."