Scots pine tops survey of Scotland's favourite trees and plants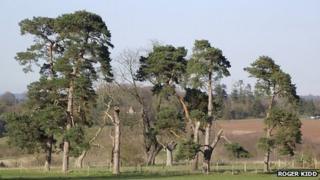 The Scots pine has topped a survey of Scotland's favourite native trees and plants.
The tree beat the Scottish bluebell into second place in a survey conducted by the Royal Botanic Garden Edinburgh.
The survey, which opened online last April, attracted nearly 1,700 votes from Scotland and the UK as well as 37 countries around the world.
The Scots pine collected 15% of votes cast, just ahead of the Scottish bluebell which attracted 14%.
The Scots pine is widely regarded as an important provider of habitat for species such as crossbill, pine marten and capercaillie.
The Scottish bluebell, also known as the harebell, grows abundantly around Scotland and is considered by many to herald the start of summer.
The rowan tree took third place in the poll, with the Scottish primrose and the silver birch in fourth and fifth.
The Royal Botanic Garden Edinburgh (RBGE) said it had received votes for some more unusual choices.
They included bog myrtle, melancholy thistle, Arran whitebeam, round-leaved sundew, twinflower, eyebright and woolly willow.
Commenting on the results, RBGE science conservation officer Heather McHaffie said: "The survey has been fascinating and has also helped provoke discussion about the fragility of our trees and plants.
"Many of Scotland's native species are vulnerable or endangered. This can be for a number of reasons from changing land uses or grazing to climate change."
The survey was inspired by Scotland's Big 5 campaign to identify the nation's favourite wildlife.
The campaign was run jointly by Scottish Natural Heritage (SNH) and VisitScotland as part of the Year of Natural Scotland 2013 celebrations.
The golden eagle topped the Big 5 vote, triumphing over the red deer, red squirrel, harbour seal and otter.