Income of Scotland's top earners 'increasing faster' than other workers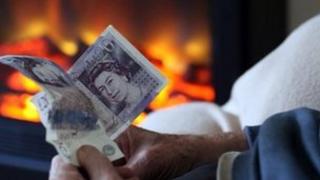 Scotland's top earners have increased their income at a greater rate than the rest of the nation's workers in the past decade, according to a report.
It said those in the top 1% income bracket - some 25,000 people - could expect to earn 20 times more than someone in the bottom 1%.
But overall household income inequality has not increased substantially since the mid-1990s, it said.
The study was carried out by academics at Stirling University.
They said they had compiled the Inequality in Scotland report to create a much more comprehensive picture of trends in inequality in Scotland, and to inform the referendum debate, and policy making.
Leaving aside the extremes of the top 1%, the study found the impact of tax credits since the mid-1990s has meant inequality has barely increased in Scotland.
That is after a sharp rise in inequality from the 1980s, linked to the decline of older industries and of the wage bargaining power of trade unions.
The economists showed Scotland is around the mid-point for inequality among developed nations, and that others - including the Nordic countries - have been becoming more unequal during this century.
The study showed government policy can reduce inequality, but there are pressures on the jobs market from trade and technology.
The replacement of some jobs by computers has weakened the mid-range of incomes, meaning more people are either in the top earning range or the bottom earning range.
The study also demonstrated that the move to part time work has been one of the main drivers towards uneven earnings, particularly among men. But the economists pointed out that some people want to work part-time, so it is not clear this is unwelcome.
It also underlined that the gap between high and low earners in Britain is skewed by the variations in the incomes of Londoners.
Scottish levels of inequality are similar to those for the rest of Britain excluding London.
The capital is roughly twice as unequal as the rest of the UK. The highest earning 1% of people in London earn 43 times more than those with the lowest 1%.
David Bell, professor of economics at Stirling University, said: "Though an independent Scotland would have more powers to address inequality, its room for manoeuvre would be constrained by these wider forces.
"Inequality in Scotland, like in many developed nations, is partly being driven by technology, by trade, and even by how we decide to form households.
"So, there are likely to be limits to the extent that a small open economy can reduce inequality. Scottish independence would provide opportunities, but the constraints that already exist would not go away."
The study was funded by the Economic and Social Research Council.