One in four Scots had no qualifications in 2011, census shows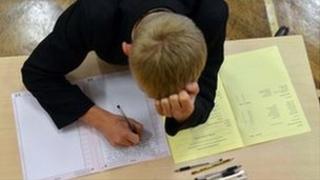 About a quarter of people over the age of 16 in Scotland had no qualifications in 2011, according to census information.
The figure was based on details which were broken down to give a picture of education and the labour market.
The national proportion of 27% was equal to 1.2 million people in Scotland having no qualifications.
The highest proportion was in East Ayrshire at 34% and the lowest was Edinburgh at 17%.
The statistics, published by the Registrar General for Scotland, also showed that 26% of over-16s had a high-level qualification such as a degree or professional qualification.
The highest proportion in this bracket was 41% in Edinburgh and the lowest was 17% in West Dunbartonshire.
Of the four million people in Scotland aged between 16 and 74, 69% (2.7 million) were economically active - either working or looking for work.
Part-time workers
The largest category of economically active people was full-time employees, who represented 40% (1.6 million) of the population, followed by part-time employees at 13% (530,000).
Almost five times more females than males were part-time employees.
Retired people represented 15% of the population and accounted for almost half of the economically inactive people aged over 16.
In 2011, just over half of the 2.5 million employed people worked 38 hours or more in a typical week in their main job; 39% worked between 38 and 48 hours and 12% worked 49 hours or more.
A total of 7% (189,000) of Scotland's economically active population was unemployed, excluding full-time students looking for work.
This was slightly higher than the 2001 figure of 6% (148,000).
The proportion ranged from 10% in North Ayrshire and Glasgow City (7,000 and 30,000 people respectively) to 3% in the Shetland Islands, Orkney Islands and Aberdeenshire (350, 390 and 5,000 people respectively).
Health and social work and retail activities were the two largest industry sectors in 2011 (15%) while the largest category of occupation was professional, employing 17% of all employed people aged 16 to 74.
The proportion of males working in the construction, manufacturing and transport and storage sectors was much higher than the proportion of females, while there were higher proportions of females than males working in health and social work and education.
'Interesting snapshot'
About five times more females than males worked in caring, leisure and other service occupations and four times more females worked in administrative and secretarial occupations.
Lower managerial and professional occupations was the largest socio-economic group, which represented 20% (803,000 people).
The lower supervisory and technical occupations category represented 12% of males, compared with 4% of females.
A Scottish government spokesman said: "In future, these figures, like the content of the entire census, will be seen as an interesting snapshot of life in Scotland in 2011.
"However, when considering statistics on employment and education two years down the line, it must be borne in mind that considerable progress has been made up to 2013 and further work is ongoing.
"Figures released earlier this week show that Scotland continues to outperform the UK with a higher employment rate, lower unemployment and lower inactivity that all other nations in the UK."
The spokesman added: "There were record numbers of Scots accepted into our universities this year, which will see the next generation of Scots be more qualified than ever before."