Scotland approves new cancer drugs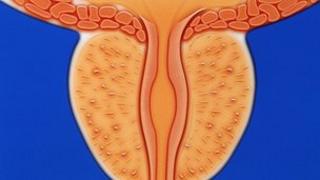 Scotland has become the first part of the UK to approve two new cancer drugs for routine use in the NHS.
Enzalutamide, a treatment that could extend the life of men with advanced prostate cancer, has been accepted by the Scottish Medicines Consortium.
The SMC has also approved axitinib, a drug that could help kidney cancer patients whose disease has spread.
The decisions have been welcomed by doctors and cancer charities.
Prostate cancer affects more than 2,500 people in Scotland each year, with the disease becoming more advanced in 10% to 20% of sufferers.
Dr Rob Jones, senior lecturer and honorary consultant in medical oncology at the University of Glasgow, said the approval of enzalutamide was a "notable milestone" which "paves the way for more men to be given precious extra months at a stage of life when time and quality of life is so cherished".
Rob Lester, chairman of the Edinburgh and Lothian Prostate Cancer Support Group, also welcomed the decision.
He said: "In recent years the number of people diagnosed with prostate cancer in Scotland has increased and now many men and their families are affected year on year.
"Today's news brings fresh hope for these individuals. We look forward to a time when more men with advanced prostate cancer are eligible for this treatment."
Campaigners from the Prostate Cancer UK charity said they would now campaign for enzalutamide to be made routinely available on the NHS elsewhere in the UK.
The SMC also accepted the use of axitinib for treating kidney cancer patients, for whom some other previous treatments have failed.
The National Institute for Health and Care Excellence, which approves drugs for use on the NHS in England, has already decided not to recommend axitinib for use, meaning patients south of the border have to try to use the Cancer Drugs Fund to get the treatment.
'Right direction'
On average there are more than 800 cases of kidney cancer a year in Scotland, with about 340 deaths a year from the disease.
Dr Jones, also a consultant at the Beatson West of Scotland Cancer Centre, said: "It gives eligible patients access to an effective second-line treatment option where they previously had none."
"It is also a positive sign for improving cancer outcomes for patients in Scotland where traditionally outcomes fall behind other European countries."
Dr David Montgomery, medical director of drugs company Pfizer Oncology UK, said: "This important decision will benefit advanced kidney cancer patients in Scotland.
"Historically access to cancer medicines has been a challenge in Scotland, compared with other European countries where oncologists regularly have access to a number of second-line advanced kidney cancer treatments.
"This decision is a step in the right direction for improving access to cancer medicines in Scotland and improving outcomes for patients."
Drew Lindon, from Prostate Cancer UK, said: "Men with incurable prostate cancer should not be subjected to any further delays at a stage in their life when time is at an absolute premium.
"Delighted though we are for men who should shortly be able to access this drug in Scotland, our work will go on until the drug is formally approved for use in England, Wales and Northern Ireland."