Sir Ian Wood calls for new offshore oil and gas regulator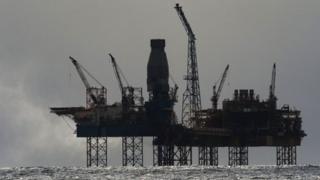 Improving the way the UK's offshore oil and gas industry is regulated could boost the economy by £200bn over the next 20 years, a report has said.
Retired oil tycoon Sir Ian Wood was asked by the UK government in June to carry out a review of the industry.
His interim report made a series of recommendations aimed at maximising the economic benefit from the UK's remaining offshore resources.
These included setting up a new regulator to oversee the industry.
The current regulator, which is situated within the Department of Energy and Climate Change (DECC), is now "significantly under resourced and far too thinly spread" to effectively manage the increasingly complex business and operating environment, Sir Ian said.
He pointed to the rapid fall in production efficiency as an indication of poor asset stewardship by the industry, which the regulator had not been able to adequately confront.
Sir Ian called on the DECC to establish a new arm's length regulatory body to take on the stewardship role for the next phase of the UK Continental Shelf (UKCS).
This would be appropriately resourced and equipped with additional powers to achieve greater co-ordination of activities and collaboration, closer in style and influence to neighbouring North Sea regulators.
It would work closely with industry to develop and implement key strategies in areas such as exploration, third party access to infrastructure, production efficiency and decommissioning.
It would also have the right, for the first time, to attend operator consortia management meetings.
The review recommended that the new body be funded by industry.
Sir Ian interviewed 40 active companies in the oil and gas industry, representing more than 95% of UKCS production, while compiling the report.
He also spoke to key government figures, and regulators from neighbouring regimes such as Norway and the Netherlands.
'Economic benefits'
He added: "The evidence is clear. We need to strengthen the capacity and capability of our stewardship regime to enhance collaboration significantly across the North Sea if we are to meet the challenging demands of maturity and diversity and maximise the economic benefits for both the country and the industry."
His report said an increasingly diverse range of operators were currently investing at record levels in the UKCS.
But it pointed out that exploration and production rates were falling, and activity was fragmenting into a patchwork of smaller fields.
Sir Ian said operators were currently pursuing individual commercial objectives in isolation, which led to inefficiency across the industry as a whole
He recommended that government and industry work together to pursue a new strategy, called Maximising Economic Recovery for the UK (MER UK).
Industry would be required to sign up fully to the principles of the strategy and commit to collaboration in key areas such as the development of regional hubs and the sharing of infrastructure.
It would also aim to reduce the complexity and delays in current legal and commercial processes which can hinder progress on important developments and efficiencies.
Sir Ian said he believed that "full and rapid implementation" of the recommendations would deliver the equivalent of at least three or four billion more barrels of oil than would otherwise be recovered over the next 20 years.
This would bring more than £200bn in additional value to the UK economy.
However, the economic benefits could be even greater if the recommendations were fully embraced, he said.
Sir Ian added: "I believe it is now time for a step change in North Sea stewardship and collaboration. We need to be prepared for the challenges of this next phase in the UKCS' life.
"A better resourced arm's length regulator with a strong economic focus, capable of attracting top quality personnel with appropriate industry experience, will be able to work more closely with the industry and facilitate the development and progress we need.
"This will require fundamental changes in operator behaviour but, as my interviews confirmed, they are clearly up for it".
'Move swiftly'
The equivalent of 41 billion barrels of oil have already been produced from the UKCS, with estimates of production still to come varying from 12 to 24 billion barrels.
Sir Ian concluded: "It is essential for the UK's future growth and prosperity that we maximise recovery of our offshore oil and gas resource.
"It is therefore crucial that industry and government act now to invest in this shared vision if they are to achieve these goals.
"Subject to feedback, I will be urging DECC and government to implement the main recommendations on a fast track programme".
The report was welcomed by industry body Oil and Gas UK, which called on the UK government to "move swiftly ahead with these proposals".
Chief executive Malcolm Webb said: "The creation of a well-resourced arms-length regulator will, we believe, provide the single-minded focus required to deliver the maximum economic benefit for the industry and the country in this critical phase of the UKCS's life."
UK Energy Secretary Ed Davey said the report had given "government and industry alike plenty to think about".
He said he was looking forward to receiving Sir Ian's final report, and would set out plans to make the most of the UK's offshore oil and gas fields in the New Year.
Scottish Energy Minister Fergus Ewing said the Scottish government was "fully behind Sir Ian Wood's report".
He added: "We believe it is essential that the recommendations are implemented with speed, and a shadow body be set up rather than await the outcome of primary legislation.
"We share Sir Ian's view that the industry should finance this body, and since most of the developments in the North Sea and west of Shetland are managed from Aberdeen, Europe's Oil and Gas capital, we believe the only conceivable principal location for the new regulatory body is in Aberdeen."
But Lang Banks, director of environmental group WWF Scotland, said: "There is something deeply worrying about publishing a report that aims to squeeze even more oil and gas out from beneath the North Sea just as delegates gather for UN talks to discuss ways to tackle climate change by reducing our dependency on fossil fuels."