Drop in assault complaints against Scottish police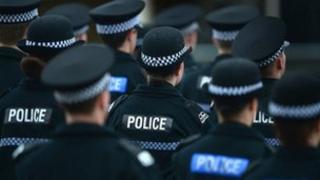 The number of assault allegation made against Scottish police officers is at a six-year low, according to the Police Investigations and Review Commissioner.
There were 476 complaints made in 2012-13 of officers assaulting someone while on duty.
Only four of these cases resulted in criminal proceedings, with one conviction.
There was also a fall in the overall number of complaints made against officers.
In 384 of the assault allegation cases, the procurator fiscal decided no proceedings should be started against the officer concerned.
In a further 69 cases the allegation was later withdrawn by the complainer.
And three complaints were abandoned because of a lack of co-operation from the complainer.
Criminal proceedings
Ten complaints of assault were either found to be unsubstantiated or were not proceeded with because of a lack of evidence.
Three were resolved after an explanation was given to the complainer and two were dealt with using an alternative to prosecution, while one complaint was found to be malicious.
The figures appear in a report on police complaints for 2012-13 - the year running up to Scotland's eight regional police forces merging into one national force.
It was published by the Police Investigations and Review Commissioner, Prof John McNeill.
Overall, police received 4,306 complaint cases last year, comprising a total of 7,893 allegations.
The number of complaints received was down 1.7% on the total from 2011-12, with complaints falling in five of the eight force regions.
Fife Police recorded 28.1% fewer complaints while Strathclyde Police had 16% more.
The complaints resulted in 38 criminal proceedings, 22 criminal convictions and 90 misconduct proceedings.
'Driving up standards'
Almost two-fifths of complaints dealt with against on-duty officers involved allegations that they had not followed procedures properly (38.7%), such as not taking a detailed statement from a witness.
The second most common complaint was of officers being "uncivil" or rude, accounting for 15.5% of all allegations dealt with last year.
One in every 10 allegations related to neglect of duty.
Just 7% of allegations were of assault by an officer, down from 21% in 2007-08.
Almost half of complaints against on-duty police that were dealt with were resolved by an explanation being given to the complainer about the reasons for the officer's behaviour, while 28.2% were found to be unsubstantiated or not upheld because of a lack of evidence.
A further 10.5% of cases were closed when the procurator fiscal decided no criminal proceedings should be taken against the officer concerned.
Taken together, these three categories account for nearly nine in every 10 allegations made against on-duty police officers which were dealt with last year.
Prof McNeill said: "This annual digest of police complaints statistics offers a valuable insight into the standard of services being provided by the police to the public. I hope that by the police recording this information and by my office putting it into the public domain that the public can see that complaints about the police in Scotland are taken seriously.
"I am a firm believer that if a complaint raises wider or systemic issues then any lessons learned should be shared across the entire police service and not restricted to the area where the complaint originated.
"This is an important part of driving up standards in complaints handling."