Scotland holds Armistice Day silence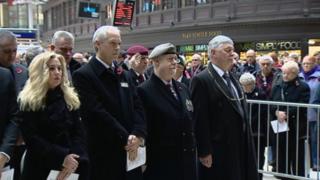 The 95th anniversary of the World War One armistice has been marked across Scotland with a two-minute silence.
Ceremonies have been held at military garrisons, churches, schools, railway stations and town halls.
The commemoration on the 11th hour of the 11th day of the 11th month marks the guns falling silent in 1918, and the declaration of an armistice.
On Sunday, two-minute silences took place at war memorials across the UK and the Commonwealth.
At Glasgow's Central Station, a new memorial stone dedicated to railway staff who died in World War Two and subsequent conflicts was unveiled, as part of its Armistice Day service.
The polished, black granite memorial sits beneath the bronze memorial to the Great War.