Commemorative plaque for Oor Wullie illustrator Dudley D Watkins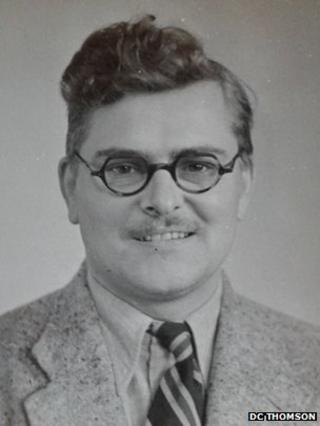 Illustrator Dudley D Watkins, famous for drawing Oor Wullie and The Broons, is to be honoured with a commemorative plaque.
He is the first historic figure to be recognised as part of the Commemorative Plaque Scheme for Scotland.
The Dundee-based illustrator drew for The Sunday Post from 1936 until his death in 1969.
Others due to be honoured with plaques include John Logie Baird, James Watt, Francis Cadell and Hamish MacCunn.
The Commemorative Plaque Scheme is designed to celebrate the life and achievements of significant historic figures, through the erection of a plaque on the home where they lived, or the building that was particularly synonymous with their achievements.
The first year of the scheme is celebrating the Year of Creative Scotland.
Members of the public were asked to submit nominations then an independent panel of experts selected the final 12.
Dudley D Watkins, who was born in Manchester but spent much of his life in Scotland, was nominated by Frank Boyle, the cartoonist for the Edinburgh Evening News.
The illustrator made a significant contribution to Scottish popular culture through his work for publisher DC Thomson.
He is best known for iconic Scottish characters Oor Wullie and The Broons. He also drew Lord Snooty for The Beano and Desperate Dan for The Dandy amongst others.
Culture Secretary Fiona Hyslop said: "The Commemorative Plaque Scheme highlights the range of incredible creativity shown by the talented people in Scotland, celebrating individuals such as Dudley D Watkins, illustrator for DC Thomson whose illustrations of well-loved characters from Oor Wullie and The Broons still bring humour and joy into our lives.
"It also commemorates historic figures who have made a significant contribution to Scotland and the world, including television pioneer John Logie Baird, steam pioneer James Watt, Scottish colourist Cadell and Archibald Findlay, Fife potato geneticist who produced the first blight-resistant potato, making the food safe from disease."
The historic figures chosen to receive plaques in the first year of the new scheme are:
Dudley D Watkins - Dundee-based illustrator
John Logie Baird - television pioneer and inventor
Archibald Findlay - Fife potato geneticist
Donnchadh Bàn Mac an t-Saoir - Gaelic poet
Louis Dickson - Bo'ness cinematographer and film pioneer
Adam Christie - sculptor and artist from Shetland
Francis Campbell Boileau Cadell - Scottish colourist
Louisa Stevenson and Christian Guthrie Wright - founders of Queen Margaret College and Edinburgh School of Cookery
Norman McLaren - Stirling-born experimental filmmaker and electronic music pioneer.
Hamish MacCunn - one of Scotland's outstanding composers.
Francis (Fra) Newbery - former head of the Glasgow School of Art.
James Watt- steam pioneer