Glasgow 2014: Scots urged to nominate Commonwealth Games baton bearers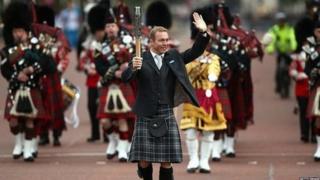 Two women who were among the first people to take part in the Queen's Baton Relay have urged fellow Scots to nominate local heroes to carry the baton on the final stage of its journey.
Izzy Conway and Julie McElroy carried the baton after the Queen placed her message inside it on 9 October at Buckingham Palace. The baton is currently travelling around the 70 nations and territories of the Commonwealth and will arrive in Scotland on 14 June.
It will then tour the country for 40 days before taking centre stage at the opening ceremony of the Commonwealth Games, when the Queen's message will be taken out and read.
Sir Chris Hoy also carried the baton on launch day, and Ms Conway and Ms McElory hope their experiences will inspire others to take part
Ms Conway - who was born in the shadow of Celtic Park, the opening ceremony venue - said: "It was one of the proudest moments of my life, to be chosen to represent Glasgow.
"It will be in my memory and heart forever."
One of her highlights of the day was the reception that followed the launch. She added: "Chris Hoy is standing chatting, you have your phone in one hand, your crudités in the other and you think 'This is surreal, I was in Asda pushing a trolley yesterday'."
Ms McElroy, a Glasgow 2014 ambassador who has cerebral palsy and is trying every para-sport before the games, hopes people from all over the country will get behind the baton.
She said: "It felt like a dream to carry the Queen's Baton. The crowd was incredible.
"People need to go out and nominate. There are an incredible amount of people in Scotland who have done incredible work for the community."
Organisers need 4,000 people to carry the baton through Scotland's 32 local authorities. Until 22 November, anyone can nominate a baton bearer on Glasgow 2014's website.
The search for Scotland's baton bearers was launched on 10 October but David Grevemberg, chief executive of Glasgow 2014, would not reveal how many people had been nominated so far.
He hopes the positivity generated by the Olympic torch and London 2012 will have a knock-on effect in Scotland.
He said: "A belief in the power of sport has been created. When the baton crosses the border into Scotland, it is going to be a really special moment."
Mark Beaumont is following the baton for a series of BBC programmes. You can follow his journey and much more on the BBC's Queen's Baton Relay website.