Generation exhibitions to feature 100 contemporary artists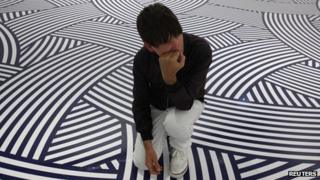 More than 100 artists will exhibit their work across the country as part of a major celebration of contemporary art in Scotland.
The programme, called Generation, will feature work by internationally renowned artists in galleries and venues from Orkney to Dumfries.
Among those taking part will be Turner Prize winners Simon Starling, Richard Wright and Martin Boyce.
Organisers said the aim of the event was to engage young people in the arts.
Generation will run from March to November 2014, with the majority of the exhibitions taking place as part of the Glasgow 2014 cultural programme to celebrate Scotland's hosting of the Commonwealth Games.
Seminal works
The wide-ranging programme, described by the organisers as "one of the most ambitious celebrations of contemporary art ever held by a single nation," will feature a number of strands, including seminal works of the last 25 years by the likes of Steven Campbell and Douglas Gordon, and works which have never before been shown in Scotland.
A number of new works have also been commissioned, including a sculpture by Alex Frost, who will exhibit at a rural site in Cove Park, Argyll, overlooking Loch Long.
Glasgow will host the biggest proportion of exhibitions, highlighting both its status as Commonwealth Games host and its place as a world-renowned hub for contemporary art.
Among the other Glasgow-based artists taking part will be Turner Prize nominees Jim Lambie, Karla Black and David Shrigley.
Remote locations
More than 60 galleries and venues around the country will also be involved, allowing contemporary art to be seen in remoter locations such as North Uist, Stornoway, Thurso and Mull.
Meanwhile, artist-led initiatives will see pop-up events and collaborations with musicians and other performers.
Generation will be delivered through a partnership between the National Galleries of Scotland, Glasgow Life and Creative Scotland.
Janet Archer, chief executive of Creative Scotland, said inspiring young people was an important element of the project.
She added: "Generation provides a unique opportunity to reach more people in more places with the art and ideas of our time.
"We are particularly excited to be engaging with children and young people. Generation features work made in their lifetimes and we hope experiencing these extraordinary exhibitions will inspire and fuel their imagination as they journey through their own lives."
Sir John Leighton, director-general of the National Galleries of Scotland, said: "There is an amazing story to tell about art in Scotland over the last 25 years and we believe that we have found a very compelling way to tell it.
"With more than 60 free shows across the country, this is a massive opportunity for both residents and visitors to experience world-class contemporary art from Scotland."