Glasgow 2014: Sports clubs get £10m boost as part of Games push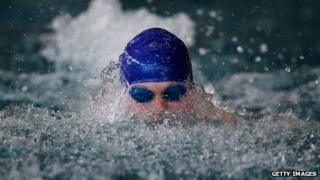 A £10m investment to develop club sport in Scotland has been announced ahead of the Glasgow 2014 Commonwealth Games.
Sportscotland, the national agency for sport, said the money would help local clubs meet increased demand and pay for 50 new development posts.
The funding will be distributed over the next four years.
Sports Minister Shona Robison said the money would develop the club sport network and help the Games leave a "lasting legacy".
Sportscotland said it expected local sports clubs to experience increasing demand in the run-up to the Games, which open at Celtic Park on 23 July next year.
About £4m will be given to clubs across Scotland as part of the Direct Club Investment programme aimed at boosting membership and improving facilities to help high-performance athletes develop.
About 50 clubs will be helped in the first year, with 11 already securing investment for projects in hockey, swimming, gymnastics, athletics, rowing and basketball.
East Lothian Swim Team secured £30,000 over three years to employ a part-time performance coach to work with talented swimmers, while the Clydesdale Amateur Rowing Club will receive £33,739 over four years to employ a part-time junior development coach to work in local schools and club sessions.
'Better opportunities'
Meanwhile, almost £6m will be invested in 50 new regional development posts for the governing bodies which manage different sports in Scotland.
Stewart Harris, the agency's chief executive, said: "The connection between school sport, club sport and high performance sport is crucial in our drive to provide more and better opportunities for people to become involved in sport and physical activity.
"Our high-performance system is already providing results on the world stage. Our Active Schools Network is making a significant impact on school sport and Community Sport Hubs are helping unite local clubs.
"Today's investment is a further commitment to grow the club sport network across Scotland by providing every opportunity for talented club athletes to flourish, and paving the way for our future champions."
Ms Robison added: "With the Commonwealth Games less than a year away, this new investment will play a pivotal role in developing the club sport network across Scotland and will leave a lasting legacy that can be enjoyed for years to come."
Health benefits
Scottish Conservative sport spokeswoman Liz Smith MSP welcomed the funding.
She said: "The primary responsibility of those who fill these new posts should be to develop sport in its most diverse definition and, above all, help grow Scottish sport at a grass roots level.
"We need to work harder to ensure that the beneficiaries of spending on sport are not just for what are considered the most popular sports.
"If Scotland is truly going to address the country's obesity and health record, we need to encourage more Scots to take up sporting activity."