Plan to revive Scotland's town centres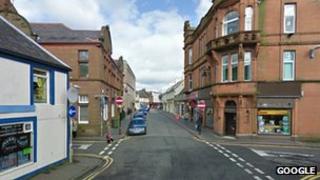 A series of proposals to revive Scotland's town centres has been launched by the government.
Plans include £2m to help bring empty town centre properties back into use, and more rates relief for businesses that take on these properties.
Fresh ideas will be encouraged through community involvement and a competition for entrepreneurs.
Local Government Minister Derek Mackay said town centres should be vibrant places to live, work and socialise.
The Town Centre Action Plan is a cross-government response to the independent National Review of Town Centres, which was chaired by architect Malcolm Fraser, and published in July.
Mr Mackay said town centres should be places that encourage business start-up and inspire innovative idea.
"We recognise the importance of securing the future of our high streets as the economic centre of our towns," he said.
"The plan marks a new era for Scotland's town centres and we will continue to work in partnership with local authorities, private and community organisations to ensure they are vibrant places to live, work and socialise."
'Not sufficient'
However, the Federation of Small Businesses in Scotland (FSB) warned that the outlined measures were not sufficient to revive town centres.
Scottish policy convener Andy Willox said: "The FSB has warned for many years that independent retailers cannot single-handedly win the battle to turn around Scottish town centres and high streets.
"While we support most of the measures outlined in today's publication, many are re-announcements of existing policies and others won't be implemented for some time.
"The proposal to develop Town Centre Investment Zones, for example, will require legislation not scheduled until 2014 and, even then, will require consent and funding from councils.
"Independent businesses expecting the town centre cavalry will be waiting a while longer.
"Further, issues important to those currently located within our centres, such as parking, planning, traffic management, access and rents, have been neglected both by the initial review and by the Scottish government response."
'Perfect example'
Mr Mackay launched the plan during a visit to Bank Street in Kilmarnock which, following work by East Ayrshire Council, local traders groups and businesses, reached 100% occupancy in October.
Councillor Douglas Reid, leader of East Ayrshire Council, said: "The Bank Street area of Kilmarnock is the perfect example of what can be achieved.
"Over many years, this area has benefitted from investment in regeneration projects and owners of buildings have been given help to restore and upgrade their premises.
"The council has also worked to enhance the look of the street with improved street furniture and lighting, new cobbles and street artwork."
The action plan includes:
Expanding the 'Fresh Start' business rates relief from property with a rateable value of £45,000 to £65,000
£2m to help bring empty town centre properties back into use
Work with Cosla to develop a town centre first principle, illustrated by demonstration projects
Powers for local authorities to establish Town Centre Investment Zones
£120,000 for Town Centre Charettes
A competition for entrepreneurs for regeneration ideas
Local government minister named as dedicated minister for town centres
Maintaining the Small Business Bonus Scheme for the life of the current parliament
Identify support priorities for Business Improvement District projects
Investigating expanding Scottish Future Trust "place-based reviews" that encourage town planning decisions with communities at the core