Caller upset about a hamburger rang 999, Police Scotland reveal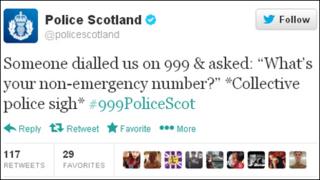 A customer complaining about a burger bar and someone wanting to buy milk are among a list of time-wasting 999 calls released by Scottish police.
A caller even dialled officers on 999 to ask: "What's your non-emergency number?"
The examples, from the first six months of the merged Police Scotland force, have been tweeted throughout the day.
A spokesman said some requests were amusing but time-wasters meant genuine 999 calls could be left in a queue.
Police Scotland service centres answer 999 calls and non-emergency 101 calls.
Since the force formed in April 2013, they have taken 888,783 calls on 101, and 648,818 calls on 999.
One drunk person called 999 to report a woman for using drugs. Officers revealed: "We asked how he knew this. He said: 'Because I collect them for her'."
A common time-wasting call was said to be: "I cannae afford a taxi home, any chance of a lift?"
The caller who complained about a burger restaurant, said he had been given a hamburger instead of a cheeseburger.
Another caller asked: "There's a pigeon with a broken wing in my garden, can you come out and help?", while someone wanted Scottish officers to go to a house in Tottenham, to see if their friend was having an affair.
And one woman asked police to come to her home because she wanted her son to get a haircut.
Police Scotland's Sgt John Kerr said: "You should call 101 any time when it isn't a 999 - any time when it isn't an emergency.
"Examples are when you've been involved in a minor traffic accident, if you've been the victim of a minor crime that isn't ongoing, if you've seen a missing person and you want to talk to your local police officer, any time when you want to speak to the police when it isn't an emergency."