Lego artist Warren Elsmore displays his Brick City in Paisley
A new exhibition in Paisley features 72 models, including a range of famous buildings, all recreated in Lego.
There is a man down situation in Paisley Museum and it is only 10am.
Fortunately, he is only 3cm tall, and swiftly righted, back into position in a cafe on the concourse of a huge Lego model of St Pancras Station.
It is an occupational hazard for Edinburgh-based Warren Elsmore, who gave up his day job in IT a year ago to become a full-time Lego artist.
"I started in the same way as everyone else, when I was three or four, getting Lego sets for Christmas and building them," Warren says.
"I put it aside for a bit when I was a teenager but I came back to it, like a lot of adults did and I've been building commercially for the past five years."
The 72 models on display in Paisley all feature in his book Brick City, which demonstrates how he made iconic structures such as the Olympic Park in London, the Forth Bridge and St Pancras Station out of the plastic bricks.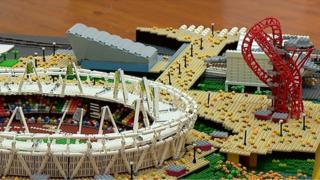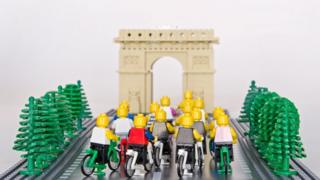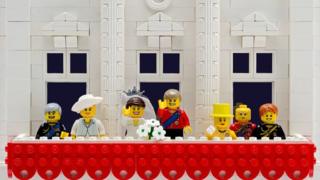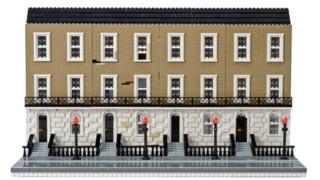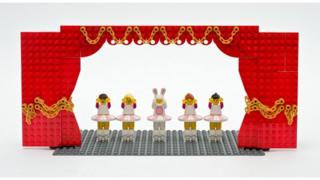 With 150,000 pieces, St Pancras dominates the show. It is not glued as some models would be, and Warren is matter-of-fact about sweeping up fallen figures or even replacing a chimney knocked off by a misplaced elbow.
It took him two years to make, on and off, a real labour of love when you consider no-one commissioned it.
The one perk was when the owner of a penthouse flat in the station clock tower saw the book and contacted him to offer a tour.
"It was brilliant," he recalls.
"I got right inside the clock tower which gives you a real sense of how the building fits together."
He hopes the show gives inspiration to builders, young and old. Nothing is custom-made, just adapted from existing bricks. The curved roof of St Pancras is made of rows of plain rectangular bricks. At the right angle, the tension holds the curve.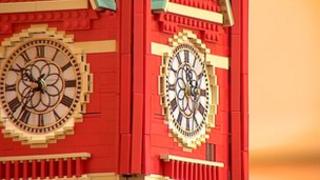 Scottish architects need no convincing that this is design, rather than child's play.
Later this month, Warren will address the Royal Incorporation of Architects in Scotland.
In the meantime, he is just glad to see all his models, gathered in one place, and at last on public show.
And for Paisley Museum, it is quite a coup, says Craig Elliot of Renfrewshire Museums.
He says: "We are hoping it's going to be extremely popular. It's not just going to be about looking, there will be a hands-on section of the exhibition where they can make something of their own, or contribute to making a local landmark or a mosaic of a Paisley pattern."
And what happens to it all when it's not out on display? Does it get swept into one giant Lego box for future construction?
Warren looks slightly shaken, although he does laugh at the notion.
"It is all packed up very carefully, put into boxes and it'll sit in a warehouse until the next time a museum wants to stage an exhibition," he says.
Brick City is at Paisley Museum, from 8 November to 16 February.