Scottish population to jump by 9% to 5.78 million by 2037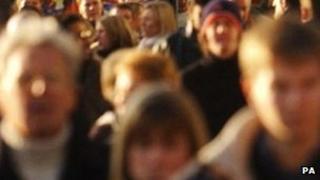 Scotland's population will rise by almost half a million people in the next 25 years to reach 5.78 million, according to official projections.
The National Records of Scotland also predicts there will be proportionately fewer people of working age.
The figures suggest there will be an extra 200,000 people in Scotland by 2022 and a 9% jump to almost 5.8 million by 2037.
England and Northern Ireland will have a higher rate of growth.
Registrar General and NRS chief executive Tim Ellis said: "The latest population projections indicate that Scotland's population will be reaching record levels for years to come."
"Scotland's population is projected to continue to rise into the future because Scotland's birth rate and inward migration levels have remained high by historic standards and because people at older ages are expected to live longer."
The projections show what happens under certain assumptions about future fertility, mortality and migration.
The assumptions are based largely on past trends and although they will reflect past policy and economic impacts the NRS said they did not take account of future changes as a result of policy initiatives.
The main projections for 2012 to 2022 show:
28% of the rise in overall population is attributed to natural increase (more births than deaths) with the other 72% due to assuming continuing inward net migration
The number of children aged under 16 will rise by 4% from 910,000 to 950,000.
The number of people aged 75 and over is projected to increase by about 28%, from 420,000 in 2012 to 530,000.
Projections from 2012 to 2037 show:
The average (median) age is projected to increase from 41.5 years in 2012, to 42.3 years mid-2022 and 44.3 by mid-2037
The number of people of working age will rise from 3.35 million to 3.51 million over the next 10 years then drop back to 3.48 million by 2037
The number of people of pensionable age is projected to increase from 1.05 million in 2012 to 1.33 million by 2037 - a rise of 27%.
Overall populations projections for the other countries in the UK show a 16% rise in England between 2012 and 2037, a 10% rise in Northern Ireland and an 8% rise in Wales.