Shipyard jobs anxiety grows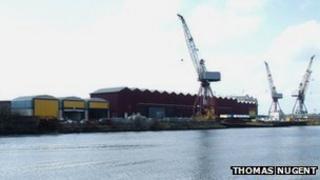 It is, of course, primarily about jobs. Imagine the anxiety in those homes tonight where a family member works in the Clydeside yards.
It is about the economy. About defence priorities and orders. About the future for shipbuilding in Scotland and the UK.
But, right now, everything is also viewed through the prism of the independence referendum.
To be absolutely clear, I do not expect in any way that Scottish political leaders will use this threat to shipbuilding jobs as an instant proxy for that referendum campaign.
Their first priority will be to ensure that as many jobs as possible are saved in the two Glasgow yards, Govan and Scotstoun. An announcement is expected on Thursday.
However, this is different from the Grangemouth episode where an impressive display of cross-party and cross-border unity was maintained.
Like it or not, the Glasgow yards have already become totemic in the referendum campaign with those who support the Union explicitly suggesting that the Clydeside jobs would be jeopardised by a Yes vote because an independent Scotland, it is claimed, would not be able to provide sufficient naval orders.
'Totemic' yards
That point, of course, has already occurred to the prime minister and his UK government colleagues as they examine ways in which this development might be mitigated.
Indeed, there is some speculation that there may already have been pressure to lessen the immediate impact upon Govan in particular because of concerns that early closure would present a campaign tool to those who advocate independence.
The iconic Govan yard sits in the Holyrood constituency of Labour leader Johann Lamont. But it directly borders the constituency of Nicola Sturgeon, the SNP's deputy first minister and infrastructure secretary.
To be absolutely clear, both MSPs were tonight emphasising the issue of employment, not politics. But they also both know that this is a referendum battleground in the making. Indeed, it is one already.
In that regard, one might detect subtexts to their comments. Ms Lamont said she would be seeking urgent talks with the UK government - "the Clyde's biggest customer".
She added that it was vital for everyone to "come together, put differences aside and fight to secure these vital jobs".
Ms Sturgeon also emphasised the fight for jobs. Asked about the impact of independence, she noted that the challenge had arisen and was "happening in the here and now".
For the future, she insisted that Scotland, as a maritime nation, would require shipbuilding employment.