Teacher Paul Allan wins national Scrabble title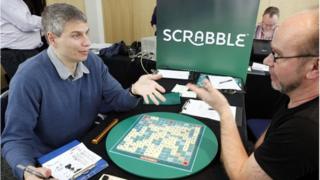 Teacher Paul Allan has become the 42nd national Scrabble champion of the UK after winning the annual competition in London.
Mr Allan, an Aberdonian who now lives in Rushden in Northamptonshire, triumphed over Allan Simmons, who lives in Coldingham in the Borders.
The winning play was the word "bandura" - meaning a Ukrainian lute.
It scored 86 points, giving Mr Allan an incontestable lead of 503 points to 389 in the deciding match.
The title carries a £2,500 cash prize.
Mr Allan said: "I am delighted to have won, especially given the fact that the final is played to a public audience of players who expect to be impressed.
"Allan played exceptionally well and was a delight to compete with."
Other high-scoring words played in the final were:
Kernite - a mineral - for 100 points
Mete - to measure - for 34 points
Exordial - a beginning - for 92 points
Portage - toll on a bridge - for 76 points
Shrieval - relating to a sheriff - for 97 points
Valerate - a chemical salt - worth 36 points
Coniines - a poisonous alkaloid - worth 98 points
Mr Allan started to play Scrabble competitively in 1993. He won the national title for the first time in 2007.