Female offender projects awarded £3m by Scottish government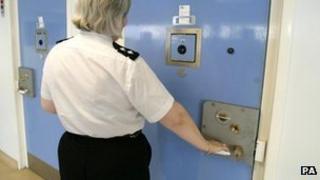 Services and facilities for female offenders are to be improved with £3m from the Scottish government.
Projects across Scotland are to be created and others expanded to improve services for addiction, mental health, housing, debt and employment.
The move is in response to proposals made by the Commission on Women Offenders, published in April 2012.
Justice Secretary Kenny MacAskill is due to update the Scottish Parliament on progress over the past 18 months.
The commission, which was headed by former Lord Advocate Dame Elish Angiolini, was set up by the Scottish government in June 2011.
It worked in partnership with agencies like the Scottish Prison Service to consider how services for women offenders could be improved.
Mr MacAskill said the funding would help "transform services" for women to help them "break the cycle of reoffending and start making a positive contribution to society".
"The commission recognised that women offenders have very different needs to those of their male counterparts and require very specific support," he said.
"We have set about meeting those needs to provide a better future for women offenders, their families and communities."
New prison
Community justice centres for women offenders are to be created or expanded in Edinburgh, Glasgow, Aberdeen and Dundee.
Seven further projects across Scotland have also been given funding to improve their work with women offenders in ways that match local need.
Mr MacAskill said more needed to be done to help women avoid the "vicious circle of reoffending and imprisonment".
He said, in line with the recommendations of the commission, the Scottish government was supporting mentoring schemes for female offenders.
It has also been working with the Scottish Prison Service to develop HMP Inverclyde as a "custom made" national prison for women, a new regional unit for women in Edinburgh and a unit for women at the new HMP Grampian.
Cornton Vale is also being upgraded while the new facilities are developed.