STUC disabled workers conference begins in Dundee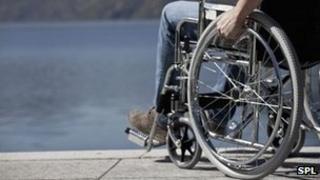 Austerity measures are continuing to hit disabled people and their families throughout Scotland, the annual STUC Disabled Workers Conference is to be told.
The two-day conference is being held at the Apex Hotel in Dundee over the weekend.
Delegates will discussing issues affecting disabled employees in the workplace and wider Scottish society.
There will also be presentations from both sides in the independence debate.
The conference is being chaired by Barbra Farmer of the Public and Commercial Services Union.
Speaking ahead of the event, Ms Farmer said: "At every level the cuts imposed on the most vulnerable in our society have a greater impact on disabled people; whether in welfare, employment rights or social services, disabled people are disproportionately punished in what is becoming one of the world's most unequal societies".
Grahame Smith, general secretary of the STUC, claimed disabled people were "suffering at the hands of one of the most uncaring government's in decades".
He added: "They attack the most vulnerable in our society withdrawing benefits based on reports from a flawed medical assessment, they threaten the livelihoods and social inclusion of disabled workers by attacking mobility benefits and households with disabled members face losing the homes as a result of the innocuous bedroom tax.
"These attacks are far from liberal and the Liberal Democrats in the coalition should be ashamed of the pain they are inflicting on disabled people.
"Their constitution espouses fundamental values of liberty and equality and they openly state that they aim to champion the freedom, dignity and wellbeing of individuals.
"The increasing poverty in disabled people would suggest that the Liberal Democrats have abandoned their principles in the desire for power and the losers are the most vulnerable in society".
The UK government has previously defended its approach to benefits, claiming it is a better way of helping disabled people.
A Department for Work and Pensions spokesman said: "It is important we don't simply write-off people who have a health condition or disability.
"The old incapacity benefits system condemned too many people to a life on benefits with little hope of moving back to work.
"Now people who can work will be given help to find a job while those who need unconditional support will get it."