New funding for children with muscle-wasting condition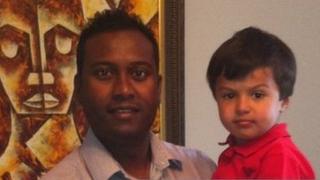 Families of children with a devastating muscle-wasting condition have welcomed funding for a new medical expert.
Duchenne muscular dystrophy, which affects about 200 children and young people in Scotland, is incurable and causes severe disability.
A shortage of experts makes it difficult for potential new treatments to reach those with the condition.
Parents said the funding would help their children lead more fulfilling lives.
Duchenne, which mostly affects boys, causes muscles to weaken and waste over time, leading to increasing and severe disability.
Few born with the condition - which affects about one in 3,600 boys - currently live to the age of 30 due to damage to heart and breathing muscles.
A new funding partnership between the Chief Scientist Office and charities Muscular Dystrophy Campaign and Action Duchenne, will provide £75,000 a year for three years for a medical training fellow to research potential treatments and work directly with children.
It is hoped the new expert will be in post by autumn 2014.
'Real hope'
Dr Chris Govender, whose four-year-old son Brandon has the condition, believes the new post will make a difference to the care of Duchenne sufferers.
Dr Govender, from Kilmarnock, said: "Brandon was diagnosed with Duchenne in November 2011, and as healthcare professionals we are under no illusions of the progression of this severe condition.
"The fulfilment of watching our happy boy grow is tarnished by knowing what the future holds for him. However, the search for a treatment is progressing well. We now have real hope that soon our children will receive treatment to slow down this devastating condition and allow them to live fuller lives.
"There is a shortage of clinical neuromuscular specialists working in the UK, especially here in Scotland. This new research fellow will serve as an effective bridge between scientific research and clinical drug trials, and the clinicians treating our boys in the community."
Clinical experience
Robert Meadowcroft, chief executive of the Muscular Dystrophy Campaign, said it is a critical time for research into the condition. He added: "There are several promising potential treatments for the condition in clinical trials.
"This partnership approach and the Scottish government's commitment to funding research is good news for families living with the condition in Scotland and beyond. This new training fellowship will create and develop researchers who have experience both in the clinic and the lab.
"We need people like this to make sure that any treatments developed by scientists tackling Duchenne make it from the laboratory to the people who desperately need them."
Public Health Minister Michael Matheson said: "At any one time, around 200 boys and young men in Scotland are living with Duchenne. Many more people are affected indirectly as family, friends and carers.
"This agreement paves the way to jointly fund a clinical research fellowship which will help drive Scotland to the forefront of clinical research."