The Harbour: Where do huge ships get an MOT?
Each year 8,000 ships pass through Aberdeen harbour. As well as a safe berth, it is where many of the vessels get their "MOT".
Huge ships battle daily with the North Sea and after a while they all need a little TLC.
BBC Scotland's The Harbour series shows the oil and gas industry diving support vessel Skandi Inspector entering the dry dock for an overhaul.
The 34-year-old ship is 81m long and 18m wide, so squeezing into the 21m entrance of the Dales Marine Services dry dock is a careful task.
Assistant dock master Frankie Longmuir conducts operations as ropes are used to guide in the massive boat and find the centre of the dock.
Once they have managed to get the rope from the dock to the boat it is slowly pulled into position.
"Everyone thinks it is all modern technology and done with lasers," says Frankie.
"But it's not."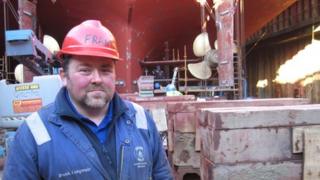 Once they close the gates to the entrance, the process which gives dry dock its name can begin.
Pumps are used to take 5.2 million gallons of water out of the dock and through a series of pipes into the harbour.
It takes five hours to pump the dock dry.
Only then can they start the massive task ahead.
"There will probably be engine work done to it. Steel work done to it. Basically it is just a big MOT," says Mr Longmuir.
Each ship is surveyed twice every five years and Dales dry dock is one of only two left in Scotland that can handle ships of this size.
Over the next 11 days a team of nearly 80 men takes the vessel apart and puts it back together again.
The anchor and chains are checked for wear and tear and the steering mechanism examined.
But the biggest job takes place in an area known as the moon pool.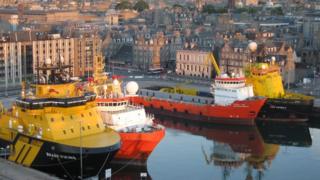 A construction support vessel such as the Skandi Inspector has to be able to launch an ROV (Remotely Operated Vehicle) safely down two pillars within the ship.
These can quickly suffer from the rigours of its work.
"The wear and tear was far too much. It was causing snagging. It is not very good when you have got the ROV sitting on the end of that. So it needs to be running smooth," says engineer Callum Buchan.
So the pillars are removed via an access hatch at the top and replaced. It is a huge undertaking to lift out 10 tonnes of reinforced steel.
The man responsible for ensuring it all runs smoothly is foreman Jimmy Innes.
"There is a lot of moneys worth up on the top of here. There are antennas and satellites and you don't want to damage that. That comes out of our pocket money," says Jimmy.
Crane operator Kevin Innes says: "You have got to plan, heights, weights, distance. If you don't set the crane up right there is a lot of people's lives at risk."
Dales Marine, which carries out work for the shipping and oil & gas, industries, has about 120 employees.
It was established in Peterhead in 1987 and has had a base in Aberdeen's York Street since 1991.
It also has had a 168m dry dock at Leith Docks since 2010.
A new series of The Harbour begins on BBC One Scotland on Monday 4 November at 19:30.