Scottish Book Trust launches search for Scotland's favourite book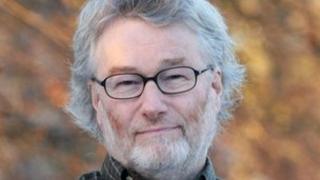 Members of the public have been asked to vote for their favourite Scottish book of the past 50 years.
They can choose for a shortlist of 50 books compiled by the Scottish Book Trust.
The trust said the shortlist was an attempt to "reflect the depth and breadth" of Scottish writing.
The 10 most popular books will be announced at the end of Scottish Book Week, which runs from 25 November until 1 December.
The shortlist was compiled in collaboration with author and literary critic Stuart Kelly, who admitted some of his choices were likely to prove controversial.
Mr Kelly said: "Choosing only fifty books from the last fifty years - half a century which has seen major innovations and developments in the Scottish novel - was never going to be uncontroversial.
"I am grateful to colleagues at Scottish Book Trust for their assistance in compiling this list, which, I think, combines the well known with the idiosyncratic, the famous and the unjustly forgotten and which will hopefully help readers discover new possible favourites and revisit existing ones."
'National conversation'
Titles to choose from include modern favourites such as Iain Banks' The Bridge, Ali Smith's Hotel World and Christopher Brookmyre's One Fine Day in the Middle of the Night.
Also up for nomination is Kate Atkinson's recent novel Life after Life, which was shortlisted for the Bailey's Women's Prize for Fiction earlier this year.
Crime fiction, one of Scotland's best loved genres, is well represented, with Denise Mina's Garnet Hill and The Cutting Room by Louise Welsh both making the shortlist, as well as Ian Rankin's groundbreaking Black and Blue.
Boasting noteworthy Scottish voices from the past and present, the list includes contributions from those who have become internationally renowned such as Alexander McCall Smith, Irvine Welsh, Muriel Spark and Alasdair Gray.
Books which are perhaps lesser known have also been given the chance to be re-discovered by new readers, with the inclusion of novels such as Amande's Bed by John Aberdein and Swing Hammer Swing! by Jeff Torrington.
Marc Lambert, Chief Executive of Scottish Book Trust, said: "Book Week Scotland is a fantastic opportunity for a national conversation about books.
"What we are keen to find out, from the public discussion and voting this list stimulates, is whether the authors who are old favourites - Alasdair Gray, Muriel Spark - will stay the course, or whether other more recent writers have come to resonate more strongly with Scottish readers."