Council charges 'need to be clear', says Accounts Commission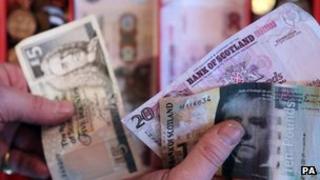 Scottish councils should be able to explain why they charge more for some services than other local authorities, a public spending watchdog has said.
The Accounts Commission said there were often "significant variations" between costs at different councils.
Home care charges ranged from £8.56 to £23.70 per hour, while pest control could be free or cost up to £102.
Local authority group Cosla said services were needed against the backdrop of tough financial times.
Charges have risen in the last 10 years and now bring in £1.3bn for councils.
Local authorities are prohibited from charging in areas such as children's education and household waste collection, but have discretion to apply charges in many other areas.
The Accounts Commission said the nature of the services provided, the cost of providing those services and differing policy priorities meant it was expected that there would be variations in charges between councils.
But it said service users may perceive these variations as "inconsistent, confusing, or unfair" unless they were fully explained.
This was particularly true for businesses which deal with several councils. They could find different approaches for commonly used services such as commercial waste disposal, scaffold permits and licensing.
Among the variations highlighted by the report were extra music tuition for individual pupils, which was provided for free by many councils but cost £340 per year in Aberdeen.
However, it pointed out that the service being provided also varied between councils, with the number of lessons ranging from 28 to 40; lesson duration ranging from 25 minutes to an hour; and some councils providing free use of equipment while others charged a hire fee.
Street trader licences ranged from £40 to £340 across the country, special uplifts from free to £53.05 and adult day care from free to £34.98 per day.
However, the report said variation in costs for adult day care services was more complex than the difference in the core fee suggested.
For example, some councils included costs for meals and transportation while others charged an extra cost to the user.
The report said councils should "compare their charges with other providers and make use of national and other benchmarking approaches.
"This does not mean simply mirroring charges elsewhere, because local circumstances may vary. However, councils should be aware of any unexplained inconsistencies and be able to explain why their charging policy differs.
"Councils should be able to explain any significant variations in charging, for example because of differences in costs, service quality or policy."
'Appropriate charges'
Accounts Commission chairman John Baillie said many councils had some good charging policies in place.
But he added: "It is important that councils have the ability to set appropriate charges for the services they provide, but people also want to know exactly what they are paying for and that the charge is fair."
Cosla president David O'Neill said: "Councils are doing an excellent job of developing measured and proportionate charging regimes within very different local circumstances.
"This means that variation in charges between councils is often appropriate given different cost bases and local priorities.
"At the same time, councils are not complacent about the need to continually improve and therefore the findings of the Audit Scotland report will be welcomed."