BMA Scotland calls for action to tackle health inequalities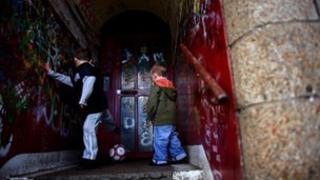 Health inequalities have "never been more apparent", according to BMA Scotland.
The doctors organisation was responding to the latest official statistics highlighting the health gap between the rich and the poor.
They showed cancer and heart attack rates remain higher among those living in deprived areas.
Public Health Minister Michael Matheson said tackling the problem was "one of our greatest challenges".
Dr Brian Keighley, chairman of the BMA in Scotland, has called for health inequality impact assessments to be carried out across all areas of government policy in a bid to "improve the life chances of people living in Scotland's poorest communities".
A new report published by the Scottish government looked at the amount of their life people could expect to be in good health.
In the most deprived communities, men and women can expect to spend 22.7 years and 26.1 years respectively in "not good" health.
That compares to just 11.9 years and 12 years for men and women in most affluent parts of Scotland.
Life chances
The hospital admissions rate for heart attacks was approximately 2.5 times higher in the most deprived areas than the least deprived communities.
The report said that since 2008 "the admissions rate in the most deprived areas has increased at a faster rate than in the least deprived areas", leading to an increase in both relative and absolute inequality.
Cancer was also more common in deprived areas, with 418 cases per 100,000 people in these areas in 2011, compared to 288 cases per 100,000 in more affluent areas.
The report also said people aged between 45 and 75 in the poorest communities were more than twice as likely to die from cancer than those in the least deprived areas.
Dr Keighley welcomed the fact that overall, people were "living healthier and longer lives" but he said "for those people living in the most deprived communities the inequalities in health have never been more apparent."
He wants all government policies to be assessed to examine what impact they would have on health inequality.
He added: "We cannot simply continue to argue that public health policies are working to improve the lives of Scots when the differences between rich and poor are so apparent.
"No matter how many taskforces and inquiries politicians establish they are no substitute for action.
"The health effects of social inequalities are a huge burden on the NHS and whilst doctors can do all they can to treat these illnesses, they will not reduce the drivers of inequality in society."
Public Health Minister Mr Matheson said the Scottish government was taking "decisive action" to try to tackle drinking and reduce smoking, but he voiced concerns about the impact of welfare reforms introduced by the UK government.
He said: "At the root is the issue of income inequality - we need a shift in emphasis from dealing with the consequences to tackling the underlying causes, such as ending poverty, fair wages, supporting families and improving our physical and social environments.
"In the face of the UK Government's welfare cuts, we are working with all of our partners to tackle poverty and inequality, and help those who want to work to get into work."
Liberal Democrat health spokesman Jim Hume claimed government action to tackle inequalities appeared to have "run out of steam" because of the SNP's focus on next year's independence referendum.
He said: "Instead of setting out how they will tackle health inequalities today they are twiddling their thumbs and obsessing about their independence plans.
"Perhaps they should listen to the BMA, who have today set out a meaningful way to reduce health inequalities in Scotland."