Fife hospital to trial neonatal webcams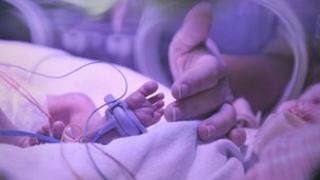 A high-tech scheme to help the parents of sick and premature babies keep in contact with their new-born infants while they are in intensive care is to be trialled at a Scotland hospital.
The system allows parents to view their infants on a tablet computer when they cannot be beside them in hospital.
It is hoped it will help improve bonding between babies and parents.
The BabySam technology should be up and running at the Victoria Hospital in Kirkcaldy within weeks.
It will be installed in the hospital's neonatal intensive care unit, and will use wireless cameras to transmit live video of the baby's cot to a tablet.
'Worrying time'
Health Secretary Alex Neil said the scheme, which has been developed by Samsung, was a "fantastic example of Scotland working with global companies to ensure that our NHS is at the forefront of using cutting-edge technology".
He said: "Having a baby in an intensive care unit can be an extremely stressful and worrying time for any new parent.
"Through this innovative new technology parents will be able to view their baby and feel connected to them while they receive the vital treatment they need to get better."
Mr Neil added: "I am pleased that Samsung have chosen to work with our vibrant health sector on this ground-breaking project which will bring about real benefits for Scottish parents."
While the scheme is being trialled by NHS Fife, who have worked with Samsung and Scotland's new Digital Health Institute (DHI), it could be rolled out across the country if it is a success.
Dr Sean Ainsworth, a consultant paediatrician and neonatologist with NHS Fife, said the health board was "delighted to take part in this pilot".
Separation anxiety
He added: "The bonding between a mother and her baby is an important process, and has implications for the child's future development.
"Sometimes babies are admitted to a special care baby unit because they are either premature or just too poorly to remain with their mothers.
"We hope that BabySam will help overcome any sense of geographical isolation by allowing mothers to see real-time images of their babies, providing reassurance to parents and improving the bonding between the mother and her baby even when they cannot physically be together."
Samsung and NHS Fife will work with the DHI and Dr Rhona Hogg from Edinburgh Napier University to understand how the BabySam system can help improve bonding between babies and their parents
It is hoped the system could potentially reduce separation anxiety for premature infants who are not with their mothers.
The technology was unveiled as the new DHI was officially launched in Edinburgh.
It is a partnership between the public sector and private organisations, with the aim of bringing together health and care operators and technology firms from across Europe, the US and Asia to produce innovative new technologies that could transform people's lives and help Scotland become a exporter of such products and services.