Reform Scotland calls for vehicle excise duty and fuel duty to be abolished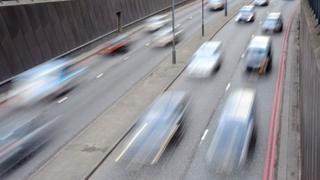 Fuel duty and vehicle excise duty should be abolished in Scotland and replaced by a pay-as-you-drive system, a think tank has suggested.
Reform Scotland said its proposals would see drivers pay according to which roads they use and when.
The scheme would help reduce emissions, cut congestion and increase fairness, according to the think tank.
The Scottish government said ministers had no plans to introduce road charging now or in the future.
But Reform Scotland called on the government to launch a feasibility study.
Under its proposals, central government would "price" motorways and trunk roads and local authorities would "price" local roads.
The scheme would require both vehicle excise duty (VED) - commonly known as road or car tax - and fuel duty to be devolved to Holyrood in order for them to be abolished as the pay-as-you-drive system became live.
'Blunt instrument'
Reform Scotland said VED, while addressing carbon emissions through its grading structure, punished those who drive infrequently by charging them exactly the same as those who drive on a regular basis.
It described fuel duty as a "blunt instrument" which takes no account of which roads are being used or at what time.
The think tank said a pay-as-you-drive system would mean that people pay depending on which roads they use and when they use them, better reflecting the emissions and congestion they cause.
Reform Scotland's director Geoff Mawdsley said: "The way we currently charge drivers is bad for the environment, promotes congestion and is unfair on low-mileage motorists and those in more remote areas.
"We believe that pay-as-you-drive, with central and local government pricing roads and being accountable to their electorate for their level, would encourage motorists to change their behaviour.
"As a result, it would reduce emissions because people will consider alternatives to the car; it would reduce congestion because people will consider driving at cheaper times or on cheaper roads; it would benefit the national economy as people and goods could move more freely and quickly, as well as the local economy as people chose to shop closer to home; and it would be fairer on drivers who drive on remote, quiet roads or at off-peak times."
The think tank said Scotland should "learn from other countries who do this better".
Its report cited examples, including Germany and Norway, where technology is used to calculate road usage and bill drivers accordingly.
Reform Scotland acknowledged such a scheme would incur considerable start-up costs, and there had been significant public opposition to road charging in the past.
A 2004 UK Department for Transport feasibility study suggested that a UK-wide road pricing scheme could cost up to £62bn to set up with an annual running cost of up to £5.5bn.
Meanwhile, a 2005 referendum saw Edinburgh residents reject council plans for congestion charging in the city.
Rural drivers
The Scottish Conservatives criticised the plans.
The party's transport spokesman Alex Johnstone said: "Certain aspects of this may appear superficially attractive but if you look at the possible consequences, the negatives quickly appear.
"While there may be some benefit for rural drivers, that in turn would result in commuters who absolutely need to use motorways and trunk roads paying through the nose.
"These people already pay a significant amount and charging them even more could also have a negative impact on the broader economy."
Emilia Hanna, air pollution campaigner at Friends of the Earth Scotland, said: "Simplifying the cost of motoring through a scheme like the pay-as-you-drive one proposed by Reform Scotland is certainly worth examining, although we would no doubt disagree with Reform Scotland over the levels of pricing that motorists be charged.
"Any road pricing system must create a more level playing field between motoring, public transport, cycling and walking."