Rubbish and fly tipping fires cost £16m to tackle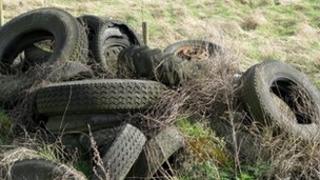 Rubbish fires are costing taxpayers millions of pounds a year, according to the Scottish Fire Service.
Its latest figures showed there were 7,937 blazes involving refuse and fly-tipping in 2012/13, with almost 90% started deliberately.
The cost of dealing with these fires was about £15.9m.
The fire service has highlighted the problem in the run up to 5 November - which is usually the worst time of year for such cases of fire-raising.
Assistant Chief Officer Lewis Ramsay said: "The large number of fires involving refuse, rubbish and fly tipped materials has a detrimental impact upon communities, neighbourhoods and the environment so the message to the public is simple.
"We tend to see a spike in this activity around Bonfire Night, so it's particularly important to get the message out that this is not acceptable."
Casual disposal
As well as the cost of tackling the blazes, the fire service has also highlighted that businesses, homeowners and local councils spend thousands of pounds replacing fire-damaged skips and wheelie bins.
National anti-litter campaign Clean Up Scotland has teamed up with firefighters ahead of Bonfire Night to call on the public to help prevent litter fires.
Carole Noble from Keep Scotland Beautiful said: "Something big needs to happen now to change our nation's attitudes to the casual disposal of litter and mess.
"Fly tipping is not a victimless crime. There is a substantial cost to the emergency services of up to £16m, not to mention the estimated £11m annual cost of clearing it from council land.
"It is up to the authorities to deal with deliberate fires of contained waste in wheelie bins and skips, but we all have a role to play to prevent fires involving litter and fly tipping by not creating it in the first place."
Anyone with information about fire setting in their neighbourhood has been asked to contact Police Scotland or Crimestoppers.