Appeal to fancy dress couple over Gorbals rape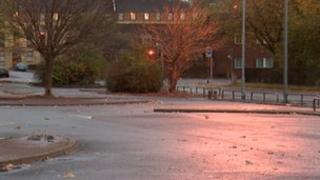 Police have appealed for a couple seen in fancy dress in a Glasgow car park where a woman was raped to come forward.
The 35-year-old woman, who was dressed as a bride in a white wedding dress and veil, was raped in a car park in Bridge Street, the Gorbals, at about 02:30 on Sunday.
She had been to a fancy dress party nearby.
The couple in fancy dress were seen on CCTV at the time of the attack.
The victim was walking through the car park when she was pulled into the bushes by a man, who attacked her before running off towards Eglinton Street.
He was described as white, Scottish, with dark hair and dark clothing.
The woman, who received cuts and bruises during the attack, managed to make her way to the road where she stopped a passing taxi.
The taxi driver and a man and woman who helped her have been traced by police.
Busy area
Det Insp Liz McLean, from Police Scotland, said: "From CCTV, another couple, a man and woman both wearing fancy dress, are seen in the car park at the time of the attack. I would appeal to them to come forward as they might have seen something that could help us with our inquiries.
"We are still keen to speak to anyone who was in the area at the time who may have information that will help our investigation.
"The lady had been at a fancy dress party nearby and was dressed as a bride wearing a full white wedding dress and a veil."
She added: "Although a lot of people were no doubt dressed up for Halloween parties, I think it is very possible that someone may have seen her as she walked along the street.
"This is a busy area with cars and buses and in particular taxis. I would ask that anyone with information contact police."