Woman raped in Bridge Street car park in Glasgow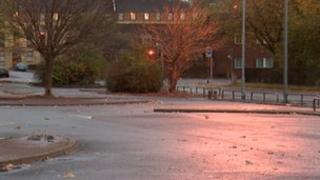 A woman was raped in a car park in the Gorbals area of Glasgow in the early hours, police have said.
The 35-year-old woman, who was dressed as a bride in a white wedding dress, had been to a fancy dress party nearby.
She was walking through the car park at Bridge Street when she was pulled into the bushes by a man, who attacked her before running off towards Eglinton Street at about 02:30.
He was described as white, Scottish, with dark hair and dark clothing.
The woman, who also sustained cuts and bruises during the attack, managed to make her way to the road where she stopped a passing taxi. Two members of the public also came to her aid.
Det Insp Liz McLean said: "Two members of the public, a man and a woman, stopped to help her as did a passing taxi driver, all of whom have been traced and spoken to by officers.
"However, we are still keen to speak to anyone who was in the area at the time who may have information that will help our investigation."