Johann Lamont urges council tax rethink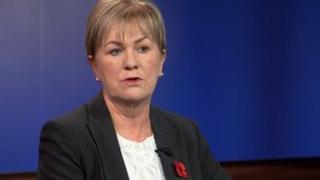 The leader of the Labour party in Scotland has suggested there needs to be a rethink of how local government is funded.
Johann Lamont said the current council tax freeze was not working.
It comes as an academic advising Labour on how to reduce public spending branded the council tax freeze a "major problem" for councils.
Professor Arthur Midwinter said it was an "inefficient use of public money".
The academic told the Scotland on Sunday newspaper by failing to ring-fence some anti-poverty funds, the Scottish government had allowed money to be swallowed up elsewhere as councils tried to patch over cuts.
"The result is that about £1bn of targeted spend on poverty has disappeared," he warned.
Some policies, such as the council tax freeze and fee-free prescriptions, benefited middle and upper income households, he argued.
On the BBC's Sunday Politics, Ms Lamont said she would need to look at Prof Midwinter's report in detail.
However, she called for a discussion on how to fund local authorities in Scotland, saying the council tax was "discredited".
Ms Lamont said the freeze in the cost of the council tax, which has been in place since 2007 and looks set to continue until 2017, was underfunded by government and had hit local services.
She said: "I want a discussion not where the parties get dividing lines between each other but come together and address the challenge of how do you properly build a confidence in the way you raise taxes locally?"
A spokesman for First Minister Alex Salmond said: "This is a massive own goal by Johann Lamont.
"Voters will be shocked by her announcement that Labour would scrap the council tax freeze.
"A poll published on Sunday showed the SNP government's council tax freeze is backed by 82% of voters, with only 9% opposed.
"75% of Labour's own voters back the freeze.
"This proves how out of touch with ordinary people Ms Lamont is."
Something for nothing
The SNP also accused Ms Lamont of trying to rewrite history by claiming she had not used the expression "something for nothing" in relation to people in Scotland benefiting from universal services.
In a speech in September last year Ms Lamont questioned universal benefits which could see wealthy people receiving tuition fees and prescriptions for free.
She told party members in Edinburgh it was time to end a "something for nothing" culture.
She said that taxes would have to rise or services would be cut in order to maintain popular but expensive SNP pledges on areas such as the council-tax freeze and personal care for the elderly.
On Sunday, Ms Lamont told the BBC's Sunday Politics: "It is a reflection of the cartoon politics that the SNP misrepresent and scaremonger about what Labour has said.
"I have never said that some people get something for nothing.
"What I have said is that you have to look at both what you spend money on and what are the consequences of that.
"It is not acceptable to say we have free personal care when people are living with the experience of less than 15 minute visits."
SNP MSP Linda Fabiani said: "She appeared to deny that she had ever used the expression 'something for nothing' - and the entire 'something for nothing' speech has been airbrushed from the Labour Party's website.
"But Ms Lamont did say it. It was the central part of what was described as a major speech made in September last year.
"At the time it was suggested this could become a disastrous approach for her, as Labour adopted the Westminster agenda of cuts, cuts and more cuts - hitting the vulnerable and abandoning hard fought for universal benefits.
"So it is no surprise that Johann Lamont seems to want to forget and distance herself from that disastrous speech."