Worst of the storm to miss Scotland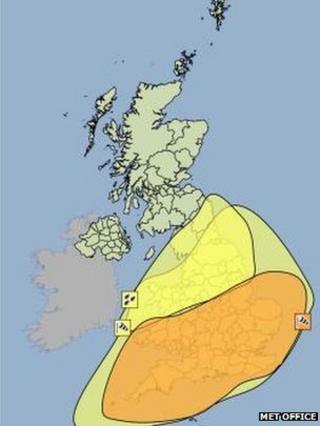 Scotland looks set to avoid the worst effects of the heavy rain and hurricane-force winds forecast for other parts of the UK on Sunday night and Monday.
Gusts of up to 80mph (130km/h) are predicted as the storm hits the south west of England then moves north and eastwards.
However, the Met Office has not issued any weather warnings for Scotland.
The worst of the weather north of the border will be in the south west.
There will be heavy blustery showers, most frequent over Dumfries and Galloway.
Strong southwesterly winds will touch gale force at times.
High winds warnings were in place on Sunday for the Forth Road Bridge, the Skye Bridge, and the Tay Road Bridge.
And airports in Scotland said they were expecting delays caused by disruption to flights in the south of England.
A Met Office amber alert for high winds in southern Wales, southern England, much of the English Midlands, the East, London and the south east of England is in place.
A yellow alert warning of heavy rain that could lead to surface water flooding and disruption is in place for Wales and the whole of England except the east and south east.
The storm is expected to reach the South West in the early hours of Monday, and should have moved across the country to the North Sea by lunchtime.
Northern Ireland and Scotland are expected to be spared the worst of the weather.