Robert Louis Stevenson statue unveiled by Ian Rankin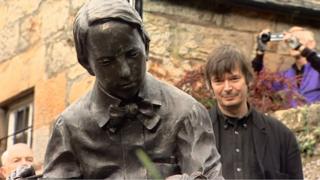 The first outdoor statue of Robert Louis Stevenson in the city of of his birth has been unveiled by fellow Edinburgh author Ian Rankin.
The bronze statue stands in a small garden at Colinton Parish Church, which is said to have inspired Stevenson's "A Child's Garden of Verses".
The statue is the work of Scottish sculptor Alan Herriot.
He has portrayed the young Stevenson, sitting on a tree stump scribbling in a notebook.
Stevenson loved dogs and the composition also includes his Skye terrier 'Cuillin'.
The novelist, essayist and poet was born in Edinburgh in 1850 and died in Samoa in 1894.
As well as his poetry and travel writing, Stevenson's novels Treasure Island, Kidnapped, and Strange Case of Dr Jekyll and Mr Hyde have become some of the most famous stories ever written.
He spent childhood summers with his cousins in Colinton, about four miles south west of the city centre.
The statue, costing £34,000 raised mostly from the local community, is the first phase of a public art project undertaken by the Colinton Community Conservation Trust.
Rebus author Ian Rankin said: "Without Edinburgh's split nature Stevenson might never have dreamt up Dr Jekyll and Mr Hyde, and without Dr Jekyll and Mr Hyde I might never have come up with my own alter ego Detective Inspector John Rebus."