Scottish independence: Ex-police chiefs clash over security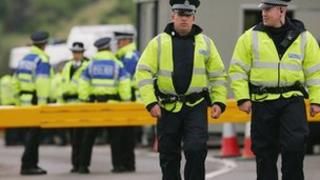 Two former senior police officers have clashed over the national security implications of Scotland becoming independent.
Labour MSP Graeme Pearson, a former director of the Scottish Crime and Drug Enforcement Agency, said "effective working" was easier as part of the UK.
But Allan Burnett, a former director of intelligence at Strathclyde Police, dismissed his concerns.
The row follows a report from the Economic and Social Research Council.
National security, which is reserved to Westminster, was the subject of a seminar organised by ESCR to discuss how current security governance arrangements worked in Scotland and the UK.
Sponsored by Mr Pearson, the report is based on contributions from academics, civil servants, police officers and former intelligence officers.
The report, authored by Dr Andrew Neal of Edinburgh University, admitted although counter-terrorism was a reserved matter, Scotland had always had its own expertise, in Strathclyde, formerly its largest police force.
Bigger partners
He wrote: "In practice, the Scottish government and Police Scotland have developed a distinctive approach that integrates counter­‐terrorism with the policing of serious crime.
"All this means that security governance feels different and is different in Scotland, but it is not independent of the UK."
The report agreed it would be possible for Scotland to have its own intelligence services, like other smaller nations such as Denmark and New Zealand.
But it warned it would be costly to maintain a level of intelligence-gathering which would meet the encryption and computer security standards of its bigger partners.
And it pointed out a senior, more powerful partner, such as the rest of the UK, would dictate the policy and costs, raising questions about how much independence a Scottish security service would really have.
Mr Pearson said it was clear experts had real concerns about the security implications of breaking up the UK.
He said: "As part of the UK we currently enjoy a high level of security.
"Why would we want to put this at risk because of Alex Salmond's obsession with independence?"
He said: "The SNP can't answer basic questions about what kind of intelligence and security service a separate Scotland would have, how much this would cost and whether we would enjoy the same level of security.
"From my experience as a police officer for over 35 years, developing effective working relationships with colleagues across the UK is far easier because we are part of the UK."
'Better deal'
Mr Burnett, previously counter-terrorism co-ordinator with the Association of Chief Police Officers in Scotland (Acpos), said: "Based upon my experience, I simply do not accept these criticisms of Scotland's abilities to have effective security arrangements - and it is worth recalling that Graeme Pearson fought very hard to keep the SCDEA as a Scottish institution, and not part of a UK-wide unit.
"This helped ensure that Scotland got a better deal in fighting drugs and serious organised crime.
"An excellent Scottish intelligence organisation could be developed in an independent country."
He added: "I have witnessed great Scottish talent in military, secret and police intelligence services, and can readily envisage the huge ability, energy, integrity and innovation they would pour into this exciting mission."
The Scottish government also rejected the claims.
A spokesperson said: "An independent Scotland will have first-rate security arrangements to counter any threats we may face.
"And we will continue to work in very close collaboration with the rest of the UK and international partners on security and intelligence matters, which is in everyone's interests."