Finding love at a Lockerbie memorial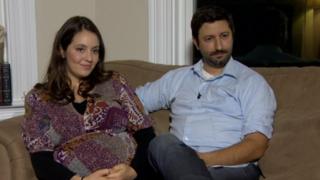 Exactly 20 years after her father was killed in the Lockerbie bombing, Sonia Stratis met her future husband at an anniversary memorial weekend.
Sonia's mother, Mary Kay, and Kathy Tedeschi, who had both lost their husbands in the 1988 bombing, had organised a remembrance weekend for the families of the victims.
Kathy's stepson, Chris, had stayed away from Lockerbie events for many years, feeling that he was not as intimately connected to the tragedy as those who had lost family.
Despite the close relationship between the Stratis and the Tedeschi families, Sonia and Chris had never met before that weekend in Virginia.
Chris says: "Our families had known each other for 20 years. It is odd to think that I had never met Mary Kay's kids at all.
"My brother Brice knew Sonia and we just sat talking. There was an instant chemistry."
After the memorial, Sonia got in touch with Chris via Facebook and the two began to meet in New York, where he lived, and Boston, where Sonia stayed.
Eighteen months later Chris, now 37, and Sonia, now 32, were married.
Their wedding in August 2010 coincided with the first anniversary of the release from prison of Abdelbaset al-Megrahi, the only man to be convicted of the Lockerbie bombing, who had been diagnosed with terminal prostate cancer.
Sonia's mother summed up the view of many US relatives when she said at the time: "We were promised that anyone convicted would serve their sentence in Scotland.
"We feel betrayed by governments."
Megrahi had been given just three months to live when he was controversially released and continued to attract intense interest as he reached the milestone of his first year of freedom.
The wedding, which included many Lockerbie relatives among the 225 guests, attracted worldwide media attention and a message of congratulations from President Obama.
His note said: "Though the pain of your shared loss brought you together, your wedding marks a new beginning and the start of a lifelong partnership."
Sonia says: "I think if that timing had not matched up, the media attention would not have been as much. But it was such a unique marriage, happening at such a unique time, it just sparked interest."
Sonia says that despite the trial which led to Megrahi's conviction, there were still many unanswered questions about the bombing.
She says it is important to try to find out the truth before it all gets lost to history.
The anniversary of the bombing takes place on 21 December. It will be five years since the couple met - and 25 years since Sonia lost her father.
She says: "It is such a bittersweet date because I am so thankful that I got to meet my husband, but at the same time it is so hard to realise that it has been 25 years since I had my dad in my life. I only had him for seven years."
Sonia, who has two young children, adds: "Two men died to bring us together and now I have two boys of strong character, who are going to be wonderful."
Chris says: "Despite the tragic events something good came out of this. God can really restore things that are tragic, and this is one of those cases."