North Lanarkshire Council claims sharp rise in rent arrears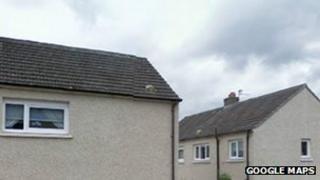 More than 2,000 people in one part of Scotland have got into rent arrears for the first time since changes to housing benefit were made in the spring.
North Lanarkshire Council thinks it is owed £675,000 from tenants because of the spare room subsidy - dubbed the bedroom tax, by critics.
The council is the largest local authority landlord in Scotland.
It also believes many people who could be eligible for help to deal with their benefit cut have not applied for it.
This is the most detailed assessment so far of the impact of the changes on one council area in Scotland.
More than 5,000 council tenants in North Lanarkshire lost some of their housing benefit in April because they were deemed to have spare bedrooms.
'Other reasons'
An analysis produced by the council - covering the six months up to September - said 2,333 tenants who previously had no rent arrears owed the authority money by September.
A further 1,100 already had rent arrears before the changes took place. This meant that 3,449 of the 5,201 people who lost some of their housing benefit in North Lanarkshire had rent arrears.
Overall, rent arrears over the past six months were up by two thirds compared to the same period last year though the council was stressing the changes to housing benefit were only one reason for this.
Tenants now owe the council more than £2.5m in total. The council said about £675,000 of these arrears could be the result of the benefit changes.
However, the council also believes that some people who could have been helped by the special discretionary housing payments, available to those affected by the benefit changes, may not have applied for them.
This means that some of the arrears may have been avoidable - or that there could have been help for people who have struggled to make up for the loss of benefit.
Help available
North Lanarkshire said it would not evict tenants solely because of spare room subsidy arrears during this financial year as long as they had contacted the housing service for assistance and advice.
A spokesman said: "Clearly the UK government's welfare reforms are already having a significant effect on our tenants.
"The council has set aside funds to assist vulnerable people in every way possible but it is essential that tenants who are worried or in difficulty talk to us.
"We have hired additional trained advisers who can discuss each case and provide help with applications for financial assistance. We have already helped thousands of people, so anyone who needs that assistance should contact their local housing office."
Council leader Jim McCabe condemned the UK government's changes to housing benefit but urged people who have been affected to speak to the council to see if help could be provided.
The council has nearly £1.2m available to hand out in these payments - £470,000 of it is from the UK government, the rest is from the council's own budget.
So far it has paid out £350,000 in these payments to nearly 2,900 people.
Welfare cost
Separate figures from the council give some indication of the scale of the arrears that individuals are building up.
As of last week, about 460 people have arrears equivalent to the cut in their benefit while 500 have built up new arrears since April of an even greater amount.
The other tenants with arrears appear to have tried to make up some of the shortfall or have received help.
The Scottish Conservatives' welfare spokesman Alex Johnstone MSP said the figures showed that the issue of welfare reform was not as black and white as the Scottish government, and what he called the "left-wing establishment", would like to make out.
Mr Johnstone said: "Welfare reform is a challenge that must be addressed so that it is fair to those who receive, and fair on those who pay for it.
"The ever-growing cost of the welfare budget is something which successive governments have failed to address.
"But the 'ignore the problem and it might go away' approach simply hasn't worked and has only resulted in fostering a culture of people being left to languish on benefits for years."
Spare bedrooms
A spokesperson for the UK Department for Work and Pensions said: "Scotland has been given £10m this year to help vulnerable people and we are monitoring this spending carefully to ensure that tenants get the support they need during welfare reforms.
"It is important to remember that housing benefit will still cover the vast majority of people's rent, but the taxpayer can no longer afford to pay for spare bedrooms.
"People have a number of options available to them, including moving to another property in the public or private sector, or making up the difference in rent through going into work or working more hours."
Scottish Housing Minister Margaret Burgess said: "We know that 80% of households affected by the bedroom tax contain an adult with a recognised disability, and over 15,000 children are affected.
"That's why have consistently expressed our opposition to this measure.
"The Scottish government is doing all it can to help the people hit by the bedroom tax, with £20m of funding available this year and a further £20m available next year."