George Eustice and Alistair Carmichael meet Peterhead fishermen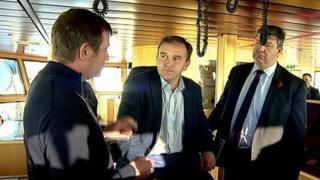 The UK's new fisheries minister has visited Peterhead to meet skippers and industry leaders.
George Eustice was accompanied by new Scottish Secretary Alistair Carmichael.
Fishermen and representatives from the Scottish Fishermen's Federation (SFF) raised concerns over the North Sea cod quota.
The ongoing row over mackerel with Iceland and the Faroe Islands was also discussed.
Other work
Mr Eustice replaced Richard Benyon as UK fisheries minister in a recent reshuffle.
Mr Carmichael, the MP for Orkney and Shetland, replaced Michael Moore as secretary of state for Scotland.
Meanwhile, MEP Struan Stevenson has said Scottish fishermen should now find it easier to get involved in other work.
The European Parliament has agreed on plans to allocate its fisheries fund.
Mr Stevenson said some of the money will be available to help Scottish fishermen retrain and work in other areas, including tourism.