The Proclaimers launch Scottish poppy appeal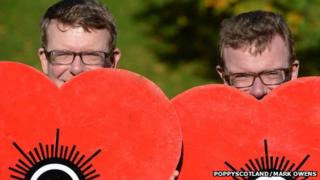 The Scottish poppy appeal has asked people to go without a small luxury and instead donate the money to support veterans.
The 2013 campaign was launched by Craig and Charlie Reid from The Proclaimers in Edinburgh.
Poppyscotland organises the country's largest charity street collection, with the money raised used to help ex-service members and their families.
The money raised last year was down slightly at just under £2.6m.
With increasing demand for the help they provide, the charity has asked the public to donate the money they would have spent on a coffee or a pizza to the campaign instead.
Craig and Charlie Reid's grandfather died fighting in World War II.
Craig Reid said: "Charlie and I are proud to launch the Scottish Poppy Appeal this year.
"It's a cause we've always supported and one that means a lot to us.
"Poppyscotland does a fantastic job in looking after ex-servicemen and women, and their families too."
Armed forces family
Poppyscotland's head of fundraising Colin Flinn said donations were put to good, practical use.
He said: "Veterans can have to deal with a number of challenges after leaving the armed forces, from battlefield injuries, mental health problems or social isolation, to not finding the right house, job or knowing how to manage their finances.
"But once someone joins the armed forces family they're always part of the family.
"So, whether someone left the forces last week or 30 years ago, if they need help we need to be here."
The Scottish Poppy Appeal runs until 11 November.