Reaction: Grangemouth petrochemical plant will close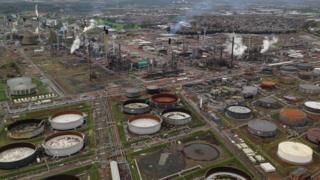 Owners Ineos have announced that the petrochemical plant at the giant Grangemouth complex in central Scotland is to close.
About 800 people are directly employed by the facility, with more employed as sub-contractors.
Scotland's First Minister Alex Salmond
"This announcement by INEOS is hugely disappointing. It is, however, the position we always feared as it became apparent that the stalemate was not going to be broken.
"It has been a growing danger since the plant was shut down last week and the emergence of a virtual deadlock between workers and management over the weekend. This is the outcome that matches our worst fears which is why we urged getting the plant fired up instead of lying cold.
"I will be speaking again to management and unions today to try and seek any further resolution we can. I will also convene an emergency Cabinet meeting with relevant ministers later today to discuss the on-going situation.
"In preparing for this extremely difficult position we have been pursuing the contingency of potential buyers - we will now be actively exploring this as the main option as a matter of urgency.
"The Scottish government strongly believes the site has a positive future and we will continue to work with the UK Government and all other parties concerned to find a solution that supports the workers affected and the wider Scottish economy."
Ed Davey - UK Secretary of State for Energy and Climate Change
"I am saddened to hear of Ineos's plans to place the petrochemicals business into administration, particularly because of the impact it will have on the workforce and local community.
"While respecting Ineos's right to make this decision, it is regrettable that both parties have not managed to negotiate a fair and equitable settlement that delivers a viable business model for the plant.
"Even at this late stage, I urge Ineos to continue dialogue with the workforce, and government will offer help and support with this.
"Ineos have informed us that the refinery will stay open and the management wish to restart full operations as soon as possible.
"We stand ready to help with discussions between the management and the union to ensure this can happen.
"Fuel supplies continue to be delivered as usual and there is no current risk of disruption to supplies.
"I continue to work very closely with the Scottish government, and other colleagues across government, to share information with them."
Calum MacLean, chairman of Grangemouth Petrochemicals
"This is a hugely sad day for everyone at Grangemouth.
"We have tried our hardest to convince employees of the need for change but unsuccessfully. There was only ever going to be one outcome to this story if nothing changed and we continued to lose money.
"We still struggle to comprehend what has happened here. The employees were offered a chance to secure substantial new investment in the company, preserve their jobs and keep their salaries. Sadly this will no longer be the case."
Pat Rafferty, the Unite union's Scottish secretary
"Unite and our members at Grangemouth are devastated by the announcement this morning of the closure of the petrochemical plant. It has confirmed our fears that this was the intention of Ineos all along.
"Discussions have taken place with the company this morning and will continue over the course of the day. We have made further proposals in a last-ditch effort to stave off these catastrophic job losses which we believe is tantamount to economic and industrial vandalism.
"Make no mistake - one man is holding this workforce and this country to ransom and that man is the Ineos owner, Jim Ratcliffe.
"Unite cannot do any more. The ball is now in the court of Jim Ratcliffe and the respective Governments in Edinburgh and Westminster and we await their responses. "
Michael Connarty - Labour MP for Linlithgow and Falkirk East (which includes Grangemouth)
"I am not really shocked. It confirms to me that they (Ineos) have a very callous view of their commitment to Scotland and to the people who work for them.
"It just underlines what I have seen during the negotiations, the whole attitude has been 1920s hardman, management politics and spin. It is an attempt to blame the workers for what they have decided to do.
"It is a kind of cut your nose off to spite your face attitude, it seems to me."
Grahame Smith, Scottish Trades Union Congress (STUC) general secretary
"The behaviour of Ineos is simply disgusting and it reveals the true nature of a feral private equity concern that clearly believes it has no social obligations whatsoever.
"In anticipation of this eventuality, the STUC has been in discussion with Scottish ministers and the Secretary of State for Scotland over the past few days.
"If Ineos is not willing to invest in this plant, alternatives must be quickly and diligently pursued."
Prime Minister David Cameron's official spokesman
"This is a disappointing outcome.
"We would continue to urge both parties who have been involved in the dispute to try to find a way to continue their dialogue.
"The right thing to do is for the government to offer its help and support in that process.
"Even at this stage we hope that a way forward could be found."
Labour councillor Craig Martin, leader of Falkirk Council
"Today's announcement by Ineos is devastating news for Grangemouth and the local area.
"The site is of critical importance to the local economy and the council will do everything in its power to help secure its future.
"Grangemouth has been at the heart of Scotland's petrochemical industry for 90 years and it is imperative that its position as a major chemical complex and refinery is maintained.
"As well as the 800 Ineos jobs in the petrochemical plant directly affected, the plant is a major contributor to the local economy and its closure will have a huge impact on local communities. The future of the refinery is also under threat. This is of grave concern and it is essential that all parties get round the table again as soon as possible."
Alistair Carmichael, UK government's Scottish Secretary
"I am very sad and disappointed that we have come to this point. This is a source of enormous concern for the workforce at the Grangemouth chemical plant and indeed for the wider Falkirk community.
"We've been hearing for weeks, though, that this is a plant that can have a future. If it is not going to be Ineos that is part of that future then there is a job of work to be done by government in London and in Edinburgh to ensure that we find somebody who will take this on because if there is a workable proposition here there must be a buyer out there for it somewhere."
Scottish Labour leader Johann Lamont
"The Ineos announcement isn't just a hammer blow to the people of Grangemouth and the surrounding communities, it is a hammer blow to the Scottish economy and the rest of the UK.
"I am glad that the Scottish and UK governments are working together and pledge my support in getting the refinery open again, and finding a way to keep the petrochemicals plant open.
"Ineos should get round the table and negotiate rather than issue ultimatum after ultimatum.
"Workers around Scotland and the UK have shown a great degree of flexibility during the global downturn since the banking crash.
"But it cannot be right in 21st century Scotland that an employer demands that a worker accepts cuts to their wages, their pensions and their conditions, and are told to either agree to them within 96 hours or face the sack.
"That is a Dickensian way for an employer to behave and cannot be tolerated.
"There is a committed workforce at Grangemouth. If the Ineos management is equally committed to their business they will negotiate with their workers not threaten them."
Angus MacDonald SNP MSP (Falkirk East)
"This is clearly devastating news for the 800 workers and the town of Grangemouth. I am deeply disappointed by the decision taken by Ineos, and my sympathy goes out to the workforce and their families at this extremely challenging and difficult time.
I am seeking an early meeting with the Scottish government to encourage them to re-double their efforts to find a buyer for the plant.
"I will of course, as the local MSP, work with anyone in search of a viable future for the plant - it can and should have a viable future as this plant is too important a site to the Falkirk district and Scottish economies."
"I understand Ineos have informed both the Scottish and UK government's that that the refinery will stay open and management wish to restart full operations as soon as possible. I am therefore calling on INEOS to fire up the refinery today."
Liz Cameron, chief executive, Scottish Chambers of Commerce
"This major shock threatens the recovery of Scotland's economy.
"The priority now is for key players to ensure a solution is reached which prioritises Scotland's economic recovery. We need contingency plans in place immediately to ensure continuous supply of fuel throughout Scotland."