Further talks after EIS union rejected teaching changes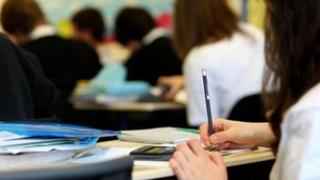 Further talks are to take place after members of Scotland's largest teaching union rejected planned changes to working conditions.
EIS members voted against the offer by a margin of almost 3-2.
At a meeting between the union and employers all sides agreed to consider their positions and hold more discussions soon.
The proposed changes were designed to make teachers' conditions of employment more flexible.
For instance a teacher might be expected to spend two hours more with students one week but do two hours less the next to balance this out.
Changes were also proposed to the list of things which are, and are not, the responsibility of teachers.
The EIS had anticipated that the current pay offer for teachers would be withdrawn if the changes to conditions were rejected. This has not yet happened.
A spokesman for council umbrella body Cosla said: "Our position has not changed. The deal as presented to the teachers' unions remains on the table.
"All three sides - the unions, Scottish government and Cosla have agreed to meet again in November."
The Scottish Negotiating Committee for Teachers is made up of representatives of teachers' unions, councils and the Scottish government.
The teachers' side stated that teachers were prepared to accept the two year pay deal, changes to pay and arrangements for short term supply teachers and to participate in a working group to consider supply teacher availability.
But they said they were not prepared to conclude agreement on the proposed changes to the duties, working hours and working week of teachers.