'Must do better' report on physical activity for Scots youngsters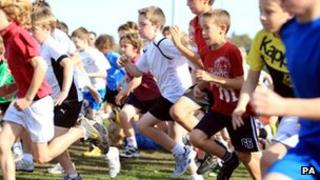 Children in Scotland spend too much time starting at screens and obesity among them is at record levels, according to a new study.
An expert group, led by Strathclyde University, has produced a "report card" on the physical activity of Scotland's youngsters.
It has graded them across various categories including diet, sedentary behaviour and outside influences.
An "F" was awarded for physical activity and an "F-minus" for obesity.
The Active Healthy Kids Scotland Report Card was complied by the universities of Strathclyde and Aberdeen, and the Children's Hospital of Eastern Ontario Healthy Active Living and Obesity Research Institute.
It highlighted that levels of obesity among young people are at a record high, with at least 16% of two-to-15 year olds were obese in 2011, with higher rates among more deprived children.
The report also pointed out that only 19% of adolescent boys and 11% of girls, aged 11-to-15 years, met the Scottish, UK and international recommendation of a least 60 minutes per day of at least moderate-intensity physical activity.
An "F" grade was also awarded in the sedentary behaviour category, with 76% 11-to-15 year olds watching more than two hours of television per day - and 77% of boys, and 37% of girls, reporting two hours of gaming every day on top of their TV viewing.
John Reilly, professor of physical activity and public health science at Strathclyde University, said: "The grades in the report card provide a robust assessment of the 'state of the nation' - how we are doing as a country in promoting physical activity and health among children and adolescents in Scotland.
"These grades are judged against an evidence-based benchmark and determined by the percentage of Scottish children and adolescents meeting the benchmark."
A "D-minus" was awarded to diet, with sugar and saturated fat intake both far exceeding recommended levels. The study also said just 14% of children ate the recommended five portions of fruit and vegetables per day.
A "D-minus" rating was also given to family and peer influence, as Scottish Health Survey statistics showed almost half of adult men and a third of adult women took the recommended 30 minutes of moderate-to-vigorous exercise per week.
The report awarded a "B" to both community and the built environment, and to national policy, strategy and investment. A "C" was given to active transportation, while both organised sports participation and active and active and outdoor play were marked "incomplete", due to a lack of data.
Prof Reilly said: "This report card - Scotland's first of its kind - provides a critical, current and comprehensive assessment of the physical activity and health of Scotland's children and adolescents.
"The report card should be used as an advocacy tool, and as the basis of public debate, policy discussion and change."
He said the intention was for an international report card to be published in May 2014, so that Scotland can be compared against other countries.
The next Scottish report card to due to be published in May 2015.