Poverty gap 'causing thousands of deaths', NHS Health Scotland warns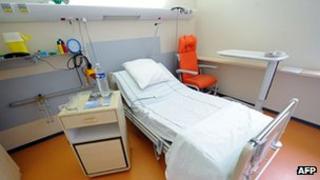 The gap between rich and poor is leading to thousands of unnecessary deaths in Scotland, health experts say.
NHS Health Scotland examined 30 years of health trends and found large differences in preventable causes of death across social groups.
Director of Public Health Science Andrew Fraser said these patterns of death were not inevitable.
NHS Health Scotland called for action to tackle inequality and not just the recognised causes of disease.
The organisation's report noted that decreasing periods of health inequality had previously been observed in the UK, suggesting the situation could change.
'Income and power'
It said there was an urgent need for action to address inequalities in "income, resources and power" across society.
The report showed that the gap in deaths across different social groups for specific causes decreased, while others emerged.
It revealed that there was little difference in death rates from non-preventable diseases such as brain and ovarian cancer, but large differences in more preventable causes like alcohol-related deaths and heart disease.
The common factor suggested for the persistence of health inequalities was social inequalities.
Dr Gerry McCartney, head of the public health observatory at NHS Health Scotland, said: "Health inequalities represent thousands of unnecessary and unjust deaths per year across almost all social groups in Scotland.
"The reason that health inequalities did not fall as particular causes were successfully tackled may be because individuals with more resources were able to protect themselves against new threats to health."
Healthcare costs
Mr Fraser added: "We need a debate and action that helps us to agree answers to the question 'What would it take to eradicate health inequalities?'.
"The answers lie in tackling the causes of inequalities, and not just the recognised causes of disease.
"Patterns of death that are evident in this report are the end-points of circumstances that span Scottish life rather than focus on a particular disease group. Prevention is achievable, and inequalities are not inevitable.
"We can anticipate that the burden of healthcare facing the NHS, communities and families will become progressively greater if we, as a country, don't provide the answers."