Alex Salmond calls for Grangemouth production to resume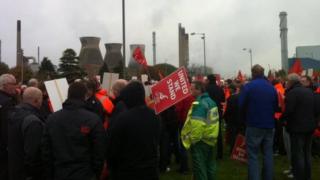 Management and unions have been urged by Scotland's first minister to get Grangemouth refinery and petrochemical plant fired up again.
Alex Salmond wants a written pledge that Unite will not strike this year, and at the same time, for owners Ineos to restart operations and return the site to normal production.
The facility remains shut down despite Unite calling off a planned strike.
Mr Salmond met representatives of Ineos and Unite on Thursday evening.
He said there was a long way to go but he believed both sides wanted "a great future for Grangemouth".
He called for Unite to swiftly confirm in writing its willingness to provide a guaranteed period of normal working to 31 December and urged Ineos to fulfil its parallel commitment to fire up the plant and return to normal production.
First step
Mr Salmond said this would provide the right atmosphere for the necessary consultations and negotiations to build a secure future for the plant.
"From my discussions tonight with both parties in this dispute I believe both are sincerely committed to create a great future for Grangemouth," he said.
"I believe that whilst there will be a long way to go, I believe that acceptance of my proposal tonight would be an essential first step in this process."
At the SNP's conference in Perth earlier he told delegates: "Governments can't make agreements" in such disputes but can "encourage the circumstances in which agreements can be found."
Ineos said shutting down the Grangemouth complex had cost the company £20m so far.
However, it reported that its power station at the site - which supplies steam to a neighbouring North Sea pipeline system - was continuing to operate despite the shutdown.
The company said fuel was still being sent by tanker from Grangemouth to filling stations in Scotland and the north of England and that stocks of refined fuel at the site remained high, with more being brought in.
Offer details
Ineos has put proposals over pay and pensions to workers at the complex, which has 1,400 employees and many more contractors.
A letter outlining the proposed changes was being couriered to employees on Friday.
BBC Scotland has been given details of the offer, which includes freezing the basic salary and offering no bonuses until at least the end of 2016.
The shift allowance would also be reduced from £10,000 to £7,500 per year, while pensions would be transferred from a final salary to a defined benefits scheme.
The company added that no job cuts were expected.
It has asked for an answer to the proposals by Monday, and has said shareholders will discuss the complex's future on Tuesday.
'Financially distressed'
The company has said Grangemouth is "financially distressed" and must reduce costs.
It has also asked for guarantees that no further strike action will be held by workers.
Unite claimed the company had told staff they could lose their jobs and be reemployed on poorer terms unless they agreed to give up their final salary pension, and accept pay freezes and pay cuts, by 18:00 on Monday.
Pat Rafferty, Unite's Scottish secretary, said: "This is cynical blackmail from a company that is putting a gun to the heads of its loyal workforce to slash pay, pensions and jobs.
"We are considering taking legal action over the company's menacing tactics and urge members not to be threatened into signing their livelihoods away.
"It is increasingly clear that the company is deliberately generating a dispute and hiding behind fancy accounting to attack its own workforce."
Unite is holding a protest vigil outside the plant during daylight hours.
'Complex system'
On Wednesday, Ineos said Grangemouth "is shut and remains shut", despite Unite calling off a 48-hour strike that had been due to begin on Sunday.
The dispute that led to a vote for strike action had centred on the company's treatment of union official Stephen Deans.
Ineos claims it is unable to immediately restart the complex, which had been shut down ahead of the planned strike.
A spokesman said: "The Grangemouth site is three times the size of the City of London and it is an incredibly complex system of manufacturing plants all connected by miles of pipes carrying highly flammable materials.
"Shutting down the site and restarting again is not like switching the lights off and on. It takes days to shut down properly and it takes weeks to bring it back up again.
"When Unite forced us to shut down in 2008 we had two major incidents and it took eight weeks to get back to normal. In the first incident, we had a large fire on a compressor. If our employees had been close to the area then there would have been serious injuries or even fatalities."