SNP show unanimity on key objective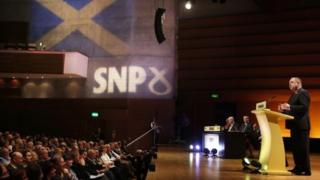 Here in Perth for the annual conference of the SNP, their last such event before next September's referendum. Historic. Challenging.
But some things never change - and so it was that the opening event was, as is customary, a challenge to the agenda from Gerry Fisher, a splendid constitutionalist within a party which is not short of such beings.
Gerry has been protesting about conference arrangements for as long as I have been attending as a journalist. (I would call him a veteran but he would have something else to say about me.) Today his appeal to reinstate a motion (drafted by Fisher, G.) was dismissed on the grounds that he was merely restating existing party policy.
Exit Gerry, sad but unbowed. Conference immediately moved to debate a resolution which restated party policy as being in favour of independence. Indeed, there was so little prospect of dissent that one speaker, Linda Fabiani, voiced her pleasure at the absence of stress.
It was, you will be astonished to learn, passed nem con. Still, mustn't grumble (although Gerry Fisher would undoubtedly challenge me on that one.) Unanimity is not unknown at other conferences.
Plus, and this may astonish you further, the Nationalists actually believe in independence. They do not propose the repeal of the Union out of badness. Little wonder, then, that they seek to project their key objective at their own conference.
However, there was time today for other topics. There was a debate on developing a sensible work/life balance. From the chair, Derek Mackay chirpily reminded delegates that such luxury would only apply to them after they had pounded the streets incessantly up to and including 18 September next year.
As if to remind them of the challenge, a clock above the platform ticked steadily down to the opening of referendum polling.
Alex Salmond needs no such reminder, on either count. As First Minister, his work/life balance is frequently disturbed. And so it was today that, straight after opening conference, he headed back to Edinburgh to hold talks on the challenge facing the Grangemouth petrochemical complex.
Mr Salmond reflected the grave nature of that challenge in his opening remarks. He had, he said, studiously avoided the temptation of making political capital from a dispute whose origins lie, at least in part, in internal Labour Party deliberations.
Further, he stressed that government could not, either in Edinburgh or London, will a settlement nor order a deal. That was down to the unions and the company. But he noted that, in separate interviews on different channels, both sides had voiced hope that Grangemouth had a strong future. In essence, he argued, let it be.
Then Mr Salmond turned to independence. As anticipated, his argument operated on distinct levels. The audience in the hall needed no convincing (see above.) And so his message was aimed at the sceptical outside the hall, around Scotland.
He made a series of basic points. That there was a "natural majority" for independence on the basis that most Scots appeared to favour the transfer to Holyrood of most key powers. That this natural majority was depressed (arithmetically) by disquiet over the economy, stirred, he suggested, by the advocates of Union.
That Nationalists could steadily counter this disquiet. That Scotland faced a choice of two futures: full self-government or continued partial rule from Westminster whereby policies such as the so-called bedroom tax would be intrinsic.
It was a taster of arguments to come at this conference, from Nicola Sturgeon tomorrow and from Mr Salmond in his main address on Saturday.