Richard Lochhead asks to lead EU fish talks for UK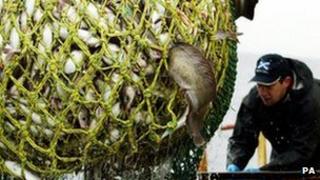 Scottish Fisheries Secretary Richard Lochhead has asked the UK government to allow him to lead negotiations for Britain at crucial European quota talks, BBC Scotland has learned.
It comes after last week's reshuffle by David Cameron saw George Eustice replace Richard Benyon as the UK fisheries minister.
Mr Lochhead said it would be unfair to ask the new minister to head the talks.
Allowable days at sea and mackerel quotas are among the main issues.
Mr Lochhead said: "I will be doing everything I can to secure a favourable outcome for Scotland's fishermen."
The EU fisheries council talks begin in Luxembourg on Thursday.
Meanwhile, Scottish fishing industry leaders have welcomed "productive" talks with Mr Eustice and Scottish Secretary Alistair Carmichael.
The Scottish Pelagic Fishermen's Association (SPFA) said the talks with the politicians covered a range of issues.
'Not feel pressurised'
These included the mackerel dispute with Iceland and the Faroe Islands.
SPFA chief executive Ian Gatt said: "The meeting with Mr Eustice provided an early opportunity to brief the minister on the importance of the autumn negotiation period for the pelagic fleet.
"We stressed to Mr Eustice that newly-released mackerel scientific advice demonstrated that the stock was in robust health and that the UK should not feel pressurised into securing a deal which jeopardised the future of the UK pelagic fleet. "
He added: "We also had a very useful briefing session with Secretary of State for Scotland Alistair Carmichael, who expressed his full support for our industry."
Mr Carmichael, the MP for Orkney and Shetland, replaced Michael Moore as secretary of state for Scotland in the recent reshuffle.