Connecting children to the great outdoors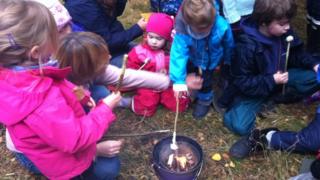 A report published by the RSPB has suggested that children in Scotland are more connected to nature than those in the rest of the UK.
The research measured young people's enjoyment of the outdoors; how at one they felt with nature; their empathy for creatures; and their environmental responsibility.
But at a half-term play scheme being held at the RSPB's Loch Leven reserve the children were more concerned about having fun.
Craig Leitch showed them how to build a den, then the group of twelve - aged between six and 12 - split up and started building their own shelters.
Boys and girls talked about how you could imagine you were surviving in the woods, or that you were a woodland animal building yourself a new home.
One lad told me if he was at home he'd have been playing a computer game. He enjoyed that, of course.
But on balance he would rather be out and about in the great outdoors. It was fun, and good exercise, he said.
Younger children - the youngest just weeks old - went on a magical walk through the trees, looking for woodland elves and forest fairies.
Then Judy Paul showed them, and their mums and dads, how to light a fire so they could toast marshmallows, bananas or potato scones.
One parent explained that it was "too easy just to sit indoors and watch TV." But taking part in events at the reserve meant they could enjoy the woods with an experienced person who knows about the trees and the wildlife.
Another mum agreed.
"It's just a fantastic experience learning about the plants and the flowers, the outdoors experience, and socialising with other children their own age," she explained.
Rebekah Stackhouse, who runs RSPB Scotland's education and youth programmes, told BBC radio's Good Morning Scotland programme that the results of the research in Scotland, which was carried out by the University of Essex over a three-year period, had been encouraging.
"Twenty seven per cent of young people in Scotland are highly connected to nature," she said.
"That's absolutely brilliant news, and it reflects the number of organisations and families that are doing stuff in the outdoors already.
"But the important thing to remember is that it is only a quarter. So it would be much better if we could get that number up to 50%, or all young people in Scotland being connected to nature."
The research was commissioned by the RSPB amid concern that generations of children had little or no contact with the natural world.
The RSPB hopes that now a baseline figure has been established, the research can be repeated in future to see what practical difference public polices are making to young people's experience.
It is claimed that contact with nature is good for children's education, physical health, and emotional wellbeing.