Ministers unveil plans to target NHS care at weekends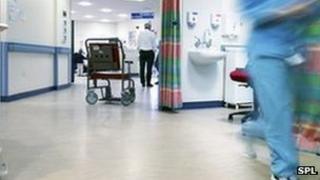 More should be done to make sure the NHS provides the same service at weekends as it does during the week, according to Scotland's health secretary.
Increasing evidence suggests hospital death rates are higher at the weekends than on weekdays.
Speaking at a conference in Edinburgh, Alex Neil said five health boards would pilot new approaches in a £4m trial
Mr Neil has also committed to having consultants in wards seven days a week.
He said a taskforce of senior NHS and Scottish government officials would be set up to oversee the changes aimed at addressing the variations in care at weekends.
Five health boards will adopt different systems to improve the flow of patients through the entire health system, from the very first contact they make with the NHS.
The results of the £4m initiative - carried out in NHS Borders, NHS Forth Valley, NHS Greater Glasgow and Clyde, NHS Lanarkshire and NHS Tayside - will be used to make improvements across the health service in Scotland.
Speaking at the International Society for Quality in Health Care (ISQua) 2013 conference, Mr Neil said the health service already offered round-the-clock care.
"The key principles of safety will always be at the heart of what we do in the NHS," he said.
"However, care will be delivered differently at 3am in the morning compared to 3pm in the afternoon. It will be different on a Thursday compared to a Sunday.
"While the quality and safety doesn't vary, the NHS must be a genuinely seven-day service where it needs to be. That is my vision and I am determined to make it happen."
He added: "It should mean that pharmacists, physiotherapists, porters - all the services you need to help patients move through and be discharged from hospital - are on hand every day of the week.
"Changes towards 24/7 care are already happening in some areas, and patients across Scotland already have access at any time of the day to see a GP or another member of the Primary Services Medical Team.
"But we need to accelerate the pace of change and make it happen everywhere."
Dr Iain Wallace, of the Association of Medical Directors, said it was recognised that the NHS in Scotland needed to move towards a position where care could be provided at a consistent level over seven days.
"We welcome additional investment to test different approaches to achieving this challenging goal," he added.