Glasgow 2014: Examining Delhi's Commonwealth Games legacy
The Queen's Baton Relay arrives at its first international destination today and it's a city which, three years ago, had observers like me on the edge of their seats.
Delhi, the capital of India, was host city for the Commonwealth Games in 2010.
There were predictions that the whole event would be in jeopardy because venue construction was way behind schedule.
As teams arrived at the athletes village, concerns were raised that it was unfinished and dirty.
But somehow everything came good and the opening ceremony was the dazzling spectacle that was needed to mark the end of controversy and the commencement of sport.
Three years on and as the Queen's baton begins the build-up to the Glasgow games, I have returned to Delhi to see what legacy has been left.
First stop is Pragati Maidan metro station, part of a network which has only been in existence for ten years and which was expanded for and beyond the games.
At a cost of £2bn it is ultra-modern and takes two million people into the heart of the capital each day.
Commuting
One man emerging from the station tell me: "Driving is hell in Delhi, especially when you are commuting between Noida, Delhi and Gurgaon.
"It's difficult but with the metro it is so easy, you don't have to worry about traffic, you don't have to worry about accidents."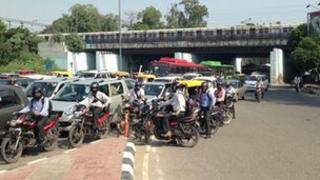 A female resident adds: "That's the most convenient and comfortable way to commute in Delhi itself. That's the lifeline of Delhi."
Before the metro she says "it was time consuming, hectic and now it's hazard free".
But the metro hasn't exactly restored calm to this chaotic country.
Although it carries two million people every day, the roads here are still hectic and packed with cars, buses, tuk-tuks and a range of unconventional transport means.
Road markings still show a separate "games lane" for traffic, although that regulation is treated with the same disregard by drivers as many other rules.
Budget
Even since the closing ceremony, the problems for the Commonwealth Games continued, culminating is the jailing of the Organising Committee's Chairman, Suresh Kalmadi, on corruption charges.
The games cost £2.5bn and were ten times over budget.
Politicians here don't want to talk about it, especially in the month before a local election.
In fact the Chief Minister of Delhi, Sheila Dikshit, cancelled a planned interview with me at the last minute.
Instead it was left to Dr A Didar Singh, Secretary General of the Federation of Indian Chambers of Commerce, to robustly defend Delhi's reputation.
He told me: "First of all there was a massive investment and business benefits from that, almost $12bn worth of work happened.
"But I think more important that that is that it has given to us a permanent improved infrastructure for the city as a whole.
"The sports part is one end of it but more than 90% of the funding went into improving the city infrastructure."
He cites 25 new flyovers, walkways, a new airport and hotel space as a tremendous boost to tourism.
He adds: "Tourism, basically, means more business."
Total renovation
Improvements have come in the main business and retail district, Connaught Place, which was due for a total renovation.
It was supposed to be transformed in time for the 2010 games but work only started post-games and they're still finishing it off.
International finance firm Grant Thornton India has a base in Connaught Place.
Vishesh Chandoik, National Managing Partner, said: "We are used to most infrastructure projects in India suffering from time over runs so I wasn't surprised.
"But I was still very happy and think the end result is substantially better than we had before.
"There is still a lot that can be done but it's about being better tomorrow than we are today and as long as they keep making those improvements I've got no reason to complain."
While admiring the iconic India Gate, the giant archway which commemorates those lost in war, I was aggressively herded away with the other tourists, which seemingly happens at five o'clock every day.
It's maybe not the way tourists would be handled back home but illustrates the many cultural differences between here and the west.
Passive observers in Glasgow might wonder how, precisely, Delhi benefited from the games when the city's reputation was torn to shreds by the many issues.
But the reality is that this city is changing.
The question is whether the games brought about the changes or whether they were used to symbolise them.
Next week BBC Scotland will examine what sporting legacy the Delhi games created.