Spending watchdog Audit Scotland in £4m tax dispute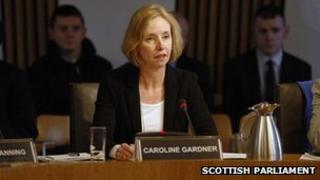 Scotland's public spending watchdog is in dispute with the taxman over a £4.1m bill, it has emerged.
Audit Scotland boss Caroline Gardner told MSPs that HMRC is seeking to recoup VAT rebates which it believes were wrongly paid.
The organisation said it had not budgeted for the tax demand and was challenging the bill.
The issue came to light at a meeting of the Scottish Commission for Public Audit (SCPA) at Holyrood.
HMRC said the VAT rebates had been wrongly paid to Audit Scotland since 2006, which is understood to have recouped the tax incurred by external companies that it contracted in to do audit work.
Scotland's auditor general Caroline Gardner said: "We have just been through a four-year budget strategy in which we have reduced the cost of audit by more than 20%.
"I struggle to see how we could reduce our costs by anything approaching that amount.
"We would continue to apply that pressure, but the options we would have would be to ask the SCPA for funding or look at recovering it through local government fees, neither of which is palatable."
In a letter to the SPCA, the parliamentary body which polices the watchdog, Ms Gardner warned the debt could have a knock-on effect for local authorities, which could see their fees for audit work increased by around 5%.
She added: "We believe HMRC have some fundamental misunderstandings about the current arrangements and have responded robustly."
It also emerged that a second tax dispute, worth £160,000, has been settled.